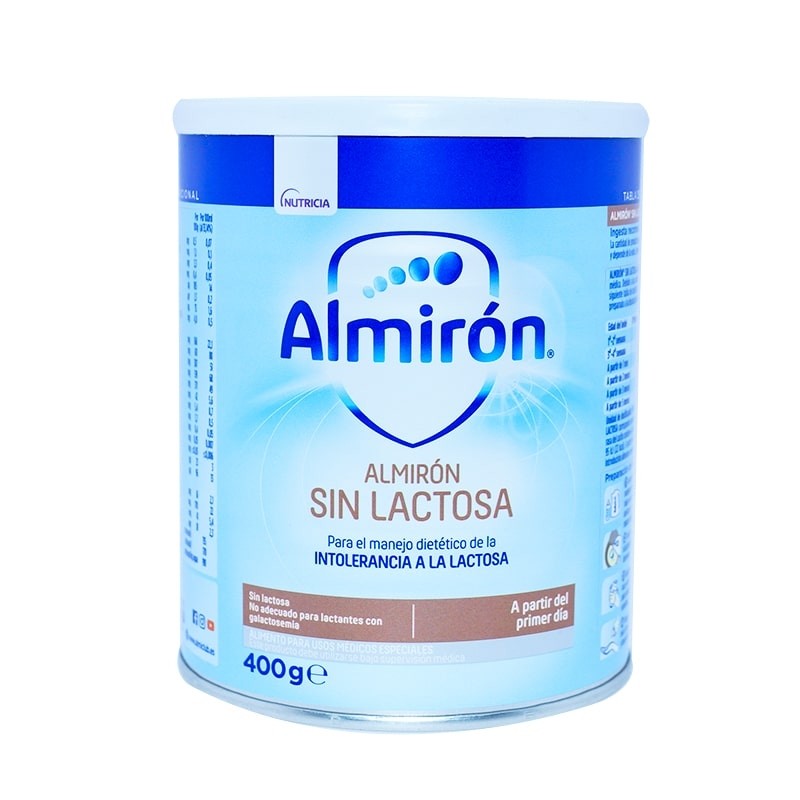  
ALMIRON Lactose Free 400g
Almirón Lactose Free.
Powder Solution for Lactose Intolerant Babies.
Helps recovery from Diarrheal Disorders.
Stimulates the Growth and Development of the Digestive System.
Improves the Intestinal Flora.
Promotes Digestion.
Without Sucrose.
What is Almirón Lactose Free 400g?
Lactose-Free Almirón is a complete formula without lactose or sucrose , for the dietary treatment of infants from the first day with lactose intolerance and acute diarrhea.
Contains dextrinomaltose , which is a carbohydrate alternative to lactose to help reduce the risk of lactose intolerance symptoms and promote recovery from diarrheal disorders .
Lactose-Free Almirón is a powdered solution for feeding babies , made without lactose , for those who do not tolerate lactose and therefore do not have good digestion.
It contains whole proteins so it should not be administered in case of allergies to cow's milk protein. It is not suitable for infants with galactosemia .
This product is suitable to be consumed as the only source of food. It will be used exclusively under medical supervision.
The WHO recommends exclusive breastfeeding up to 6 months. Farma2Go supports this recommendation on breastfeeding, together with the introduction of new foods, in accordance with the advice of health professionals.
Advantages of taking Almirón Lactose Free
Almirón Lactose Free.
Powdered solution for lactose intolerant babies.
Helps recovery from diarrheal disorders.
Stimulates the growth and development of the digestive system.
Improves the intestinal flora.
It favors digestion.
No sucrose.
For whom is Almirón Lactose Free indicated?
Lactose-Free Almirón is indicated from the baby's first day for the dietary management of lactose intolerance.
What composition does Almirón Lactose Free have?
Glucose syrup, vegetable oils (palm, coconut, canola, high oleic sunflower, sunflower oils), calcium caseinate (from milk), maltodextrin, calcium phosphate, sodium citrate, dipotassium hydrogen phosphate, fish oil, Potassium Citrate, Magnesium Chloride, Potassium Chloride, L-Cysteine, Choline Chloride, Mortierella alpina Oil, Emulsifier (Soy Lecithin), L-Ascorbic Acid, Potassium Hydroxide, Inositol, Taurine, L-Tryptophan, L -Carnitine, ferrous sulfate, zinc sulfate, uridine 5'-monophosphate sodium salt, cytidine 5'-monophosphate, DL-α-tocopherol acetate, calcium D-pantothenate, adenosine 5'-monophosphate, inosine 5' sodium salt -monophosphate, nicotinamide, guanosine 5'-monophosphate sodium salt, copper sulfate, riboflavin, DL-α-tocopherol, retinol palmitate, thiamine hydrochloride, pyridoxine hydrochloride, potassium iodide, folic acid, manganese sulfate, selenite sodium, phytomenadione, D-Biotin, cholecalciferol, cyanocobalamin.
How is Almirón Lactose Free prepared?
Wash your hands well with soap and water whenever handling a bottle and sterilize all utensils for the first time.
Following the dosage table, pour the amount of water into the bottle . It is advisable to use natural mineral water suitable for preparing baby food and that is warm for a better dissolution of the powder . In case of using tap water, boil the sufficient amount between 1 and 2 minutes and let it cool down to 40ºC.
Dose exactly each dose using only the scoop that is inside and using the leveler of the container.
Add the corresponding number of level and uncompressed measures to the bottle, following the dosage table. Cover the bottle and shake it vigorously vertically for 10 seconds , until the complete dissolution of the powder.
Test the temperature of the food before giving it to the baby. Once the feeding is finished, throw away the excess food and clean all the utensils used.
You can combine this product with any other from our range Baby Food Milks
Or if you prefer, you can click on the following link to see more ALMIRON Products
Envío desde 2.99€
y GRATIS desde 59€.