 navigate_before

Compression Stockings
Tired legs
-7.25%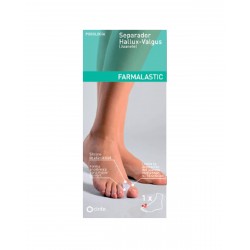 Orthopedics at Farma2Go
Foot deformities or bad habits when walking can generate certain muscle ailments that make walking difficult or cause discomfort when performing certain types of exercises. Thanks to orthopedic products, this type of pathology can be treated, improving the muscular and bone structure of the feet and ankles.
For these functions, at Farma2Go we can find a wide variety of items designed to correct this type of issue, such as pads, stabilizers and foot protectors.
Much of the discomfort in feet and legs when walking or exercising may be due to improper footing or slight deformities that cause discomfort. To correct it, the best thing to do is to use orthopedic products that prevent shocks and excess pressure on the joints, relieving the muscles with supports, insoles or pads. In addition, thanks to the technology of compression stockings, you can also soothe and avoid ailments derived from poor blood circulation, which you can find in various designs, models, and colors.
Another function of orthopedics is to hold using accessories to treat and improve the healing of bruises or fractures, improving the functionality of the musculoskeletal system. Using this type of product as a rehabilitation treatment after suffering sprains, for example, is a great idea, since it helps to immobilize the area and allow its complete healing.
Orthopedic Products
All these accessories are usually designed for the comfort of the user and made with breathable and highly resistant thermoplastic materials, to ensure comfortable use that does not cause any inconvenience. The main materials used are nylon or neoprene, which allow great adaptation to the shape of the body and excellent support in the damaged area. When they need it, they have Velcro pieces or ways to tie the contraption together to improve support and limit the mobility of the injured body area to avoid worsening the discomfort or worsening the damaged joint.
In general, these types of products are designed to go unnoticed and not be conspicuous, which is why they tend to come in dark colors or color tones close to that of the skin. Do not hesitate and, given the inconvenience, purchase any of our products to improve your quality of life by relieving joint pain and other ailments of the feet, ankles, knees and legs in general.