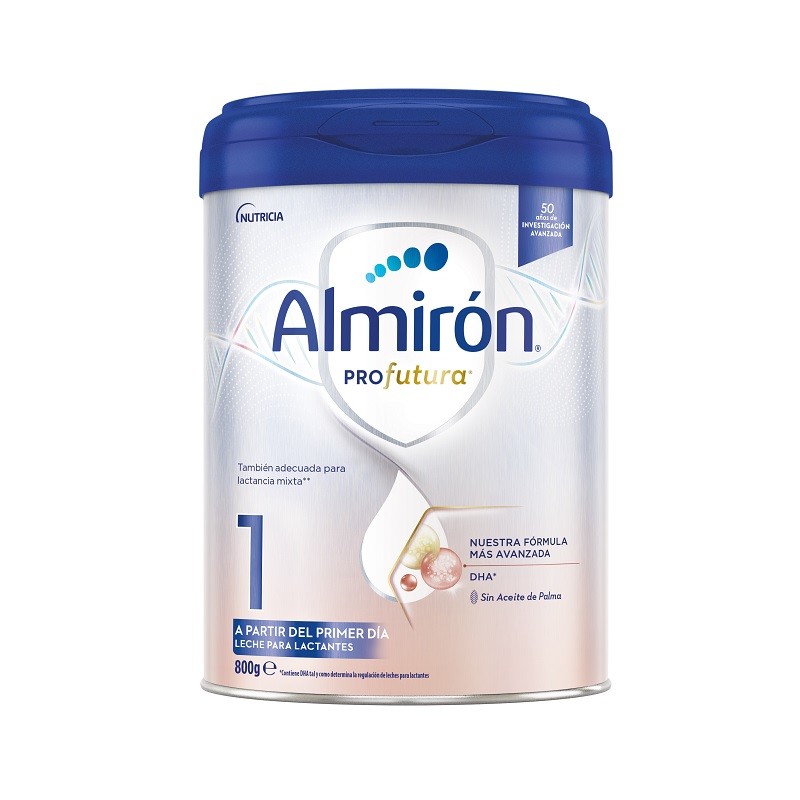  
ALMIRÓN Profutura 1 Leche para Lactantes 800gr
Almirón Profutura 1 Milk for Infants
Almirón Profutura 1 is a Milk for Infants WITHOUT Palm Oil indicated from the first day of your baby . It has a lipid profile very close to that of breast milk.
The well-being of the baby is a priority for every mother. Feeding during the first stages of the baby's life plays an essential role. Therefore, breast milk is the best food for the baby, since, among many other benefits, it helps your Immune System.
Almirón Profutura 1 has a New Formula that contains:
LCPs (DHA), long-chain polysaturated fatty acids.
Prebiotic Fibers : scGOS/lcFOS (9:1), mixture of galacto- and fructo-oligosaccharides.
Nucleotides.
Almirón 1 Profutura contains DHA as determined by the regulation of milk for infants.
This Almirón Profutura 1 Infant Milk provides nutrients, vitamins and minerals necessary for the proper development of the baby.
It is specially developed to cover the nutritional needs of your baby at each stage of its development.
In addition, Almirón 1 Profutura is available in an innovative, more comfortable, hygienic and safe format that allows you to prepare the bottle with one hand.
The result of 40 years of research , Almirón 's team of experts has developed Almirón 1 Profutura milk.
NEW FORMAT with DHA Patented Innovation.
The new Almirón 1 Profutura is a formula that goes a step further in the composition of infant formulas since it includes in its composition:
The only formula with a mixture of postbiotics that has been shown to have a positive effect on the composition of the microbiota and that infants make stools more similar to those who are breastfed.
Combination of oligoscarides more complete , complex and close to breast milk that has shown additional and enhanced benefits at the gastrointestinal and immune level, since in addition to the scGOS/lcFOS 9:1 prebiotic mixture we now incorporate 2'FL and 3'GL, getting closer in complexity and diversity to breast milk (now 9g/L and 100 short and long chain structures).
It has an improved lipid profile since we increase the amount of DHA to adapt to the new legislation and we maintain milk fat as a source of palmitic acid , providing a higher content in beta position that favors the absorption of fats and calcium and reduces constipation .
Benefits of taking Almirón Profutura 1 Milk for Infants
Start Milk WITHOUT Palm Oil .
Lipid profile very similar to Breast Milk .
Provides Nutrients , Vitamins and Minerals .
Contributes to the correct development of the baby from the first day .
With milk fat.
Higher DHA content.
With patented scGOS/IcFOS prebiotic fibers .
For whom is Almirón 1 Profutura Milk for Infants indicated?
Almirón Profutura 1 is indicated for infants from the first day.
New Format Almirón Profutura 1 Milk for Infants
Almirón has developed the new "SafeBox" format to adapt to the needs of families.
More comfortable : since it allows you to prepare the bottle with one hand.
More Hygienic : because it has a specific support to store the scoop.
More practical : thanks to its compact format that facilitates storage.
How to prepare a Bottle of Almirón Profutura 1 Milk for Infants?
Wash your hands well with soap and water whenever handling a bottle and sterilize all utensils for the first time.
Following the dosage table , pour the amount of water into the bottle . It is advisable to use natural mineral water suitable for preparing baby food, and that is warm for a better dissolution of the powder .
In case of using tap water , boil the sufficient amount between 1 and 2 minutes and let it cool down to 40ºC.
Dose exactly each dose using only the scoop that is inside and using the leveler of the container.
Add the corresponding number of level and uncompressed measures to the bottle , following the dosage table .
Cover the bottle and shake it vigorously vertically for 10 seconds , until the complete dissolution of the powder.
Test the temperature of the food before giving it to the baby .
Once the feeding is finished, throw away the excess food and clean all the utensils used.
You can combine this product with any other from our range Baby Food Milks
Or if you prefer, you can click on the following link to see more ALMIRON Products
Envío desde 2.99€
y GRATIS desde 59€.