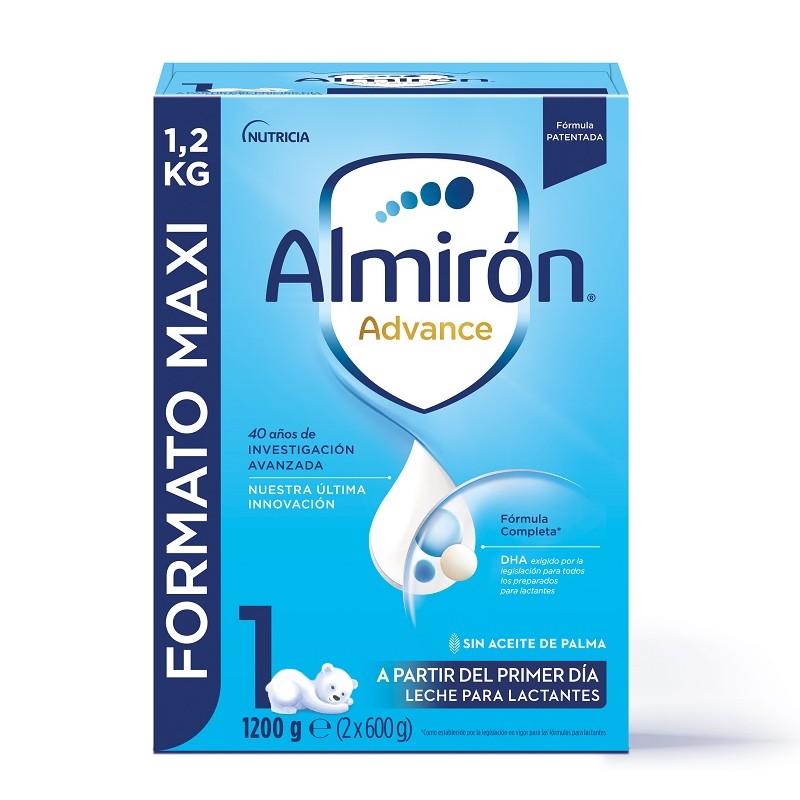  
STARCH Advance 1 with Pronutra Milk for Infants 1200gr NEW FORMULA
--> Click Here and SAVE with Almirón Advance 1 SAVINGS PACK 3x1200gr
Milk for Infants from the first day to 6 months of age.
All the nutrients necessary for the baby to grow Healthy and Strong.
With properties similar to Breastfeeding.
Protect your baby's immune system.
Almirón Advance contains DHA.
Cover your baby's nutritional needs at every stage of development.
Powdered Starter Milk for Babies.
What is Almirón Advance 1 with Pronutra?
Almirón Advance 1 with Pronutra is a Milk for Infants that contains a unique and balanced combination of nutrients, indicated from your baby's first day .
From the first days, your baby begins to write his future. Early childhood is a unique opportunity to build long-term health.
At this stage it is important that your baby receives the necessary nutrients in the appropriate quantities. Therefore, breast milk contains in its composition the nutrients that the baby needs during the first months of life. Breastfeeding is the best option, as it provides multiple benefits for both babies and mothers.
Almirón Advance 1 with Pronutra NEW FORMULA contains DHA, HMO and is formulated without palm oil.
Almirón's new formulas are produced thanks to an innovative patented process that allows them to contain components identical to those found in breast milk , such as the oligosaccharide also present in breast milk 3'GL (3-Galactosyl-lactose).
The Almirón Advance Formula with Pronutra contains a balanced combination of nutrients . This formula has been developed by experts for when breastfeeding is not possible or is insufficient , always under the recommendation of the health professional.
Due to its composition, Almirón Advance 1 has properties very similar to those of breast milk , bringing together in a single product the different nutrients necessary for the correct development of our baby , which makes it an ideal option if there are problems offering breast milk. .
The WHO recommends exclusive breastfeeding up to 6 months. Farma2go supports this recommendation on breastfeeding , along with the introduction of new foods, in accordance with the advice of health professionals.
As a result of 40 years of research , Almirón 's team of experts has developed Almirón Advance 1 starter milk.
What are the benefits of taking Almiron Advance 1 with Pronutra?
It incorporates in a single product all the necessary nutrients for the baby to grow healthy and strong .
Enriched with fatty acids and nucleotides, it offers properties very similar to breastfeeding .
Protect your Baby's Immune System.
Cover your baby 's nutritional needs at each stage of development.
Greater energy contribution.
Almirón Advance 1 Milk for Infants 1200g.
New format of Almiron Advance 1 with Pronutra
An ideal format that allows you to prepare the bottle with just one hand.
Remove the tab to open the lid for the first time. Remove the aluminum sheet.
Use the included leveler to guarantee the exact measurement of each scoop. Store the saucepan in the lid.
To close the container, press the hand icon until you hear a "click".
For what age is Almiron Advance 1 with Pronutra indicated?
Almiron Advance 1 with Pronutra is indicated for babies from birth to 6 months of age.
How to prepare Almirón Advance 1 with Pronutra?
DOSAGE: Add a scoop for every 30 ml of water. Each scoop contains 4.6g of product.
To prepare 100ml of Almirón Advance 1, you need 90ml of water, preferably at 40º C + 3 scoops of product.
Wash your hands well and sterilize utensils.
It is advisable to use special mineral water for preparing baby food, but failing that, you can use tap water that has been previously boiled and cooled to 40º.
Pour the amount of water specified in the dosage schedules into the bottle.
Add the exact amount specified in the Almirón Advance 1 dosage schedules to the bottle. Always use the included saucepan.
Cover the bottle and shake it until the powder is completely dissolved.
Test the temperature of the food before giving it to the baby. Once the feeding is finished, throw away the leftover food and clean all the utensils used.
Breast milk is the best food for the baby. In the event that this is not possible or is insufficient, it is the pediatrician who can best advise the type of infant milk to use.
You can help combine this product with any other from our range of Infant Food Milks.
Or if you prefer, you can click on the following link to see Buy ALMIRÓN Products