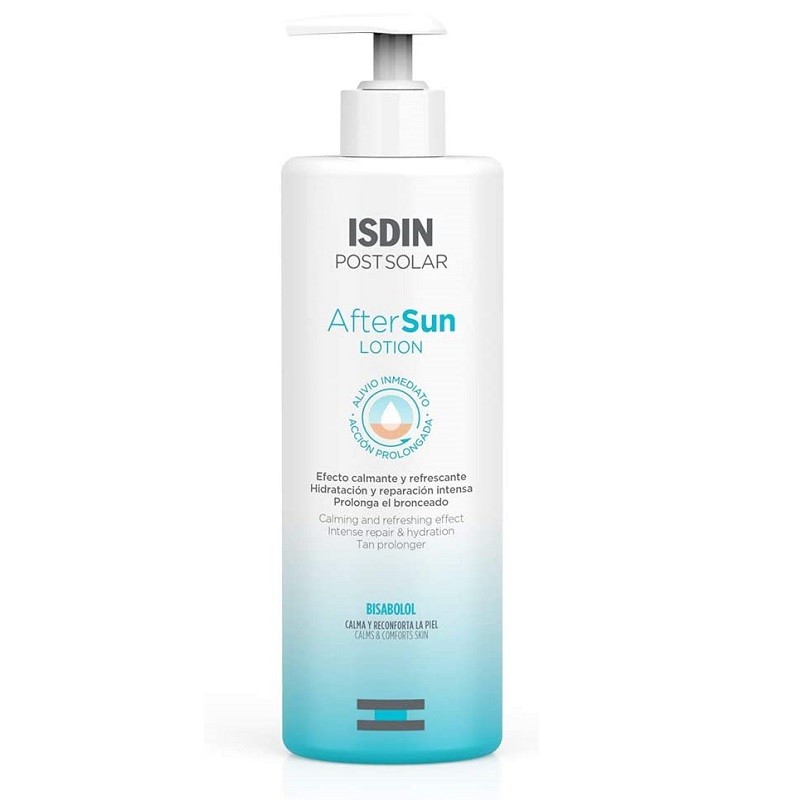  
ISDIN Aftersun Post-Solar Lotion 400ml
After sun lotion.
Refreshing effect after sun exposure.
Suitable for all skin types.
Prolongs the tan.
Intensely hydrates irritated skin.
Avoid flaking.
Smoothes and repairs.
Presentation of 400ml.
Dermatologically tested.
ISDIN Aftersun Post-Solar Lotion 400ml
It is a moisturizing lotion that is responsible for calming and comforting skin that has been exposed to the sun. It is specially designed for minimize sun damage Treating all skin types, even the most sensitive.
Provides a refreshing effect after sun exposure thanks to its Menthol and Chamomile content. Moisturizes irritated skin, helping to intensely repair it, whether it shows signs of irritation or apparently hasn't suffered any damage.
It also helps relieve burning and redness caused by the sun and softens the skin, providing a pleasant feeling of hydration, improving skin well-being.
This lotion reduces the risk of flaking , which not only leaves the skin soft and supple , but also helps to set and prolong your tan.
ISDIN Aftersun Post-Sun Lotion has a formulation with Aloe, Panthenol, Vitamin E, Centella Asiatica, which work synergistically to promote hydration and restructuring of skin damaged by sun rays.
Using the ISDIN Aftersun Post-Sun Lotion line, you can avoid photoaging and skin spots , thanks to the fact that the components of this product are rich in antioxidants.
Advantages offered by ISDIN Aftersun Post-Solar Lotion 400ml
Refreshing effect after sun exposure.
Prolongs the tan.
Powerful moisturizing effect.
Prevents peeling of the dermis.
Smoothes and repairs.
Provides a calming effect.
Helps repair and comfort the skin.
Leaves skin supple.
Without parabens.
For whom is ISDIN Aftersun Post-Sun Lotion 400ml recommended?
It is specially designed to treat all skin types, even the most sensitive. It has a great calming effect, refreshes and prolongs the tan.
Main ingredients of ISDIN Aftersun Post-Solar Lotion 400ml
Post-Solar ISDIN: prevents skin flaking and prolongs the tan.
Allantoin: improves the skin regeneration process, while softening and calming.
Bisabolol and Chamomile: have anti-inflammatory properties that accelerate the healing process of the skin. They help prevent, minimize , and also soothe both redness and irritation.
Menthol and Chamomile: provides a calming and refreshing effect that gives the skin a pleasant sensation of comfort.
Aloe Vera: soothes and moisturizes skin irritations. Stimulates the production of collagen and elastin in the skin.
Panthenol: calms and repairs the skin, reducing inflammation, irritation, redness and sensitivity. It also acts as a moisturizer, retaining water in the epidermis.
Vitamin E: is an Antioxidant that protects the skin from damage caused by the sun. It also acts as a moisturizer.
Asian Centella: has 3 functions: Soothing: special for sensitive, reddish and irritated skin. Antioxidant: protects skin proteins from free radicals that cause photoaging . Anti-wrinkle: renews tissues and helps with expression lines.
What causes sun spots on the skin?
Melanocytes are cells that synthesize a pigment called melanin . These can produce more or less of this pigment depending on the stimuli they receive. Ultraviolet radiation is the main stimulus and alters the production of melanin, increasing its synthesis. Due to a direct increase in this pigment, spots on the skin caused by sun exposure may appear.
Why does photoaging appear?
The sun is a constant emitter of electromagnetic radiation, so ultraviolet A (UVA) and ultraviolet B (UVB) rays compromise the skin.
Photoaging appears in the long term, due to the deep penetration of radiation , which damages the collagen in the skin, contributing to the appearance of expression lines and wrinkles.
UV rays are unstable molecules that destroy proteins in the deepest layers of the skin, causing spots on the skin. Luckily, the body naturally defends itself against these radicals, producing antioxidants that help neutralize and counteract the effects of UV rays.
But when there are a lot of free radicals in the body's natural defenses, what happens is that it causes loss of elasticity and oxidative damage . These being the visible signs of age.
How to use ISDIN Aftersun Post-Solar Lotion 400ml
It should be shaken and applied to the skin after sun exposure.
Perform a gentle massage with the fingertips.
You can help this product with some more of our After-Sun range, Sunscreens , Body Photoprotectors or also Facial Photoprotectors
Or if you prefer, you can click on the following link to see or Buy ISDIN Products
Envío desde 2.99€
y GRATIS desde 59€.