-7.3%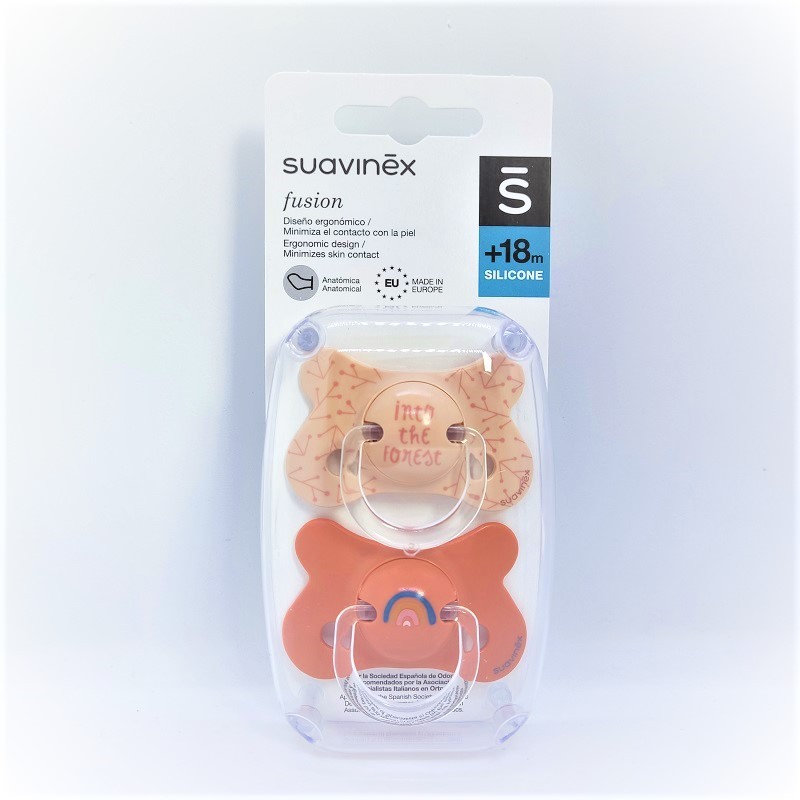  
SUAVINEX Pacifier Fusion Anatomical Silicone Nipple +18M 2ud (Rainbow Pink)
Suavinex pacifiers.
With Anatomical Silicone Teat.
The Teat Imitates the Maternal Nipple.
Adapts to the Baby's Palate.
Ergonomic shape.
Avoid irritations by Salivation.
Resistant and Undeformable.
For Babies Over 18 Months.
Pack of 2 Pacifiers.
Rainbow Pink Format.
SUAVINEX Pacifier Fusion Anatomical Silicone Nipple +18M
Pack of 2 SUAVINEX Fusion Pacifiers Anatomical Silicone Teat +18 Months. Made of natural silicone, with an anatomical teat specially designed for babies over 18 months of age.
The anatomical, soft and narrow teat imitates the shape of the mother's nipple, facilitating the sucking process and adapting perfectly to the palate and mouth of the baby.
Its washer is small in size and innovative in shape, created to minimize the contact surface with your baby's skin and thus harmonize and integrate the pacifier with its delicate face.
The circulation channel incorporated in the inner part allows not only the circulation of air between the skin and the pacifier , but also the expulsion of saliva that could be retained.
In addition, since it is small and does not put excessive pressure on the skin, it prevents the appearance of annoying irritations after intense and continuous use.
Ergonomic design resulting from the search for a perfect balance between beauty and well-being, also avoiding irritation due to baby's salivation.
SUAVINEX pacifier teats are endorsed by the Spanish Society of Pediatric Dentistry (SEOP) and recommended by the Association of Italian Orthodontic Specialists (ASIO).
--> Available in other colors and formats
Characteristics of Suavinex Fusion Pacifier Anatomical Silicone Nipple +18M
Suavinex pacifiers.
With anatomical silicone teat.
The teat imitates the mother's nipple.
It adapts to the palate of the baby.
ergonomic shape
Avoid irritations by salivation.
Resistant and non-deformable.
For babies over 18 months.
Pack of 2 pacifiers.
Rainbow Pink Format.
How to Use SUAVINEX Pacifier Fusion Anatomical Silicone Teat +18M?
Gently place the pacifier in the baby's mouth, letting the little one take it.
Indicated for babies over 18 months of age.
After each use , the pacifier should be cleaned to keep it free of bacteria.
You can help to combine this product with some more from our range of Pacifiers and Brooches
Or if you prefer, you can click on the following link to View or Buy Suavinex Products
Envío desde 2.99€
y GRATIS desde 59€.