-2.4%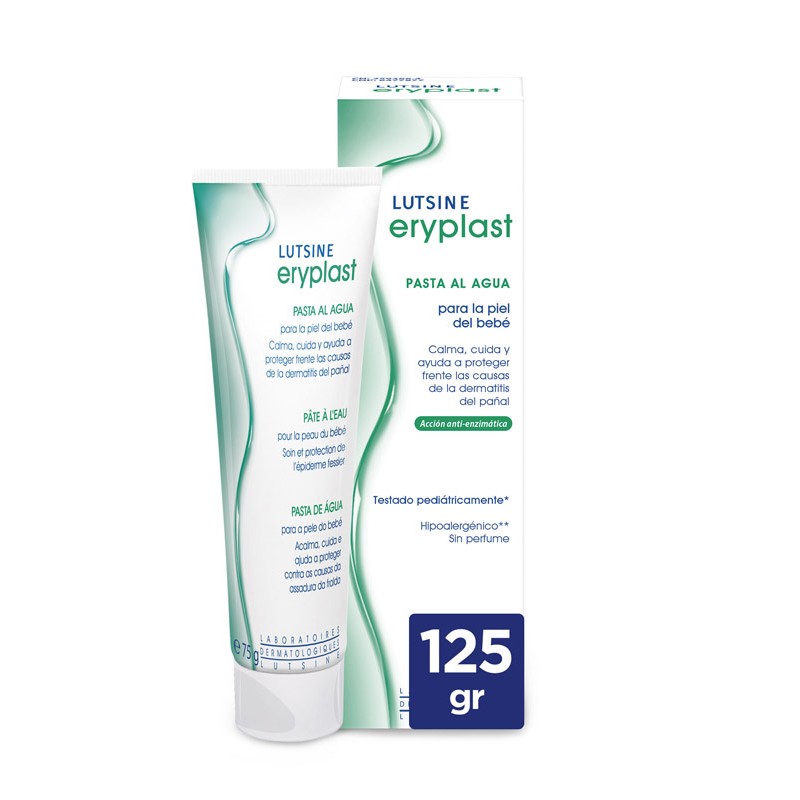  
LUTSINE E45 Eryplast Water Paste 125g
Water Paste for Baby Skin.
Soothes and Protects from Irritations.
Prevents and Treats Redness versus Itching.
Reduces Diaper Dermatitis.
Creates an Absorbent Barrier between Diaper and Skin.
Collaborates in Healing and Regeneration.
Relieves Baby's Bottom.
Hypoallergenic formula.
Antienzymatic and Antibacterial Action.
125g format.
LUTSINE E45 Eryplast Water Paste
LUTSINE E45 Eryplast Water Paste is a product developed to soothe and protect possible irritations on the delicate skin of infants and babies.
Its exclusive formula allows it to prevent and treat irritation and redness of the baby's skin due to rashes caused by the diaper .
Reduces diaper rash, providing gentle and effective protection.
Prevents skin irritation thanks to its action against irritating enzymes and bacteria present in feces and urine.
Thanks to the zinc oxide in its composition, it creates an absorbent protective barrier between the skin and the diaper, allowing correct perspiration and keeping the diaper area dry.
Collaborates with the healing and regeneration processes of the skin, relieving the baby's bottom.
It leaves the skin with a pleasant smell, despite being formulated without perfumes. Hypoallergenic formula.
When the little ones in the house use diapers continuously, it is most likely that their friction will cause irritation and redness on the baby's skin. To reduce humidity in this area of ​​the body and maintain maximum protection of the skin tissue, it is essential to use products such as LUTSINE E45 Eryplast that effectively repair these dermal symptoms.
Soft and cool diaper change!
Benefits of using LUTSINE E45 Eryplast Water Paste
Water-based paste for baby's skin.
Soothes and protects from irritation.
Prevents and treats redness against itching.
Reduces diaper rash.
Creates an absorbent barrier between diaper and skin.
Collaborates in healing and regeneration.
Relieves the baby's bottom.
Hypoallergenic formula.
Antienzymatic and antibacterial action.
125g format.
Composition of LUTSINE E45 Eryplast Water Paste
Ingredients: Water, Glycerin, Zinc Oxide, PEG-90, Talc, Kaolin, Silica, Panthenol, Butylene Glycol, Oleyl Acetate, Phytic Acid, Hydroxyethylcellulose, Pactolactone, Titanium Oxide (CI 77891).
Without Perfume.
Instructions for use of LUTSINE E45 Eryplast Water Paste
Apply a thin layer to the baby's perfectly clean and dry bottom .
Use after each diaper change.
You can help combine this product with any other product from our range of Diaper Changing Care.
Or if you prefer, you can click on the following link to View or Buy Lutsine Products