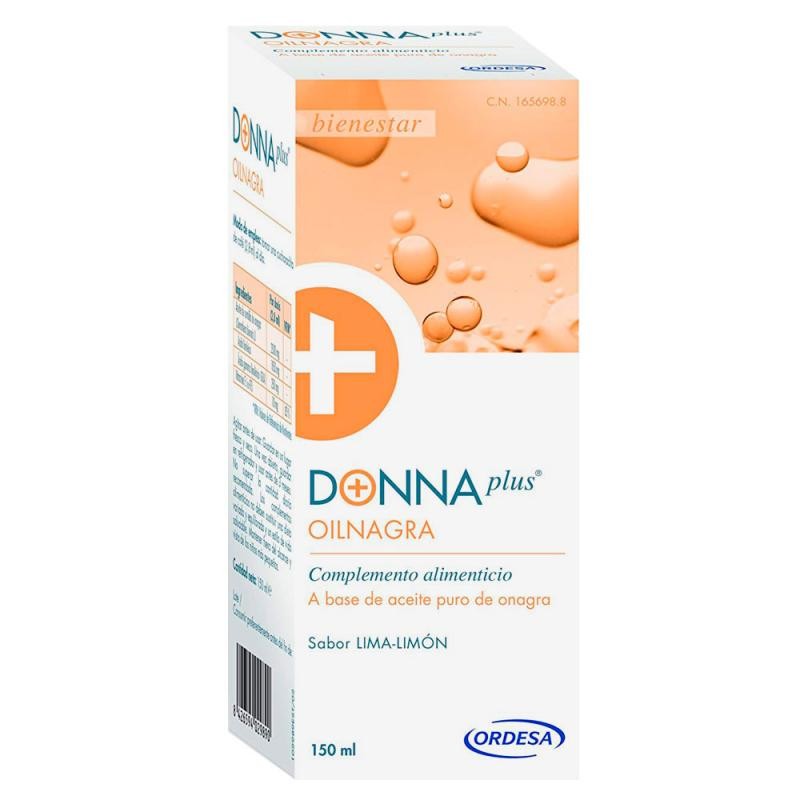  
DONNA PLUS Evening Primrose Oil Oilnagra 150ml
Food Supplement with Pure Evening Primrose Oil.
Helps Prevent and Minimize the Unpleasant Symptoms of the Menstrual Period.
Attenuates the discomfort of the days before Menstruation.
Helps keep the skin smooth.
DONNA PLUS Evening Primrose Oil Oilnagra
It is a food supplement that helps prevent and minimize the unpleasant symptoms of the menstrual period . It is formulated based on pure first cold-pressed evening primrose oil and vitamin E that stands out for its purity due to its high GLA content.
DONNA PLUS Oilnagra is useful to reduce the discomfort that occurs in the days before menstruation.
Due to its GLA content , an essential element for the skin's structure that helps keep it smooth , it is considered useful in cases of dry skin with a tendency to flaking.
Many women feel discomfort in the days before menstruation , such as the sensation of fluid retention, swelling and frequent mood swings . Under these circumstances, some naturally occurring compounds , such as evening primrose oil , may be of interest.
Evening primrose oil is obtained from the seeds of the evening primrose ( Oenothera biennis ). Due to its composition, pure first cold-pressed evening primrose oil stands out, as it provides a minimum content of 10% GLA (Gamma-Linolenic Acid) and is also rich in oleic acid (11%) and linolenic acid (70% ).
Omega-6 polyunsaturated fatty acids such as linoleic acid and (GLA) play an important role in regulating a wide variety of cellular functions and different body processes.
GLA is also an essential element for the skin's structure and helps to keep it supple.
In those products rich in GLA, it is important to also include vitamin E , a powerful natural antioxidant , which helps to preserve the product once opened.
Its liquid presentation also allows its direct topical use on the skin.
How is it taken?
A teaspoon of coffee (2.8 ml) a day is recommended for a minimum of 12 weeks to achieve adequate levels of essential fatty acids.
This special liquid preparation of evening primrose oil contains aromas of lemon and lime to favor intake and correct administration with a teaspoon of coffee a day.
Shake before using.
Once opened, store in the refrigerator and use within 3 months.
You can combine this product with one more of our Phytotherapy range or the complete range of Probiotics
Or if you prefer, you can click on the following link to see or Buy DONNA PLUS Products
Envío desde 2.99€
y GRATIS desde 59€.