 navigate_before

-6.57%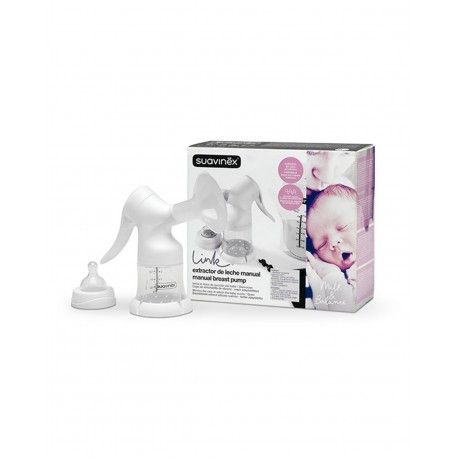  
SUAVINEX Manual Breast Pump
Manual Breast Pump.
Extract Breast Milk.
Gentle Pressing for Pumping.
Comfortable and Not Painful.
Effortless.
Includes 3 Bags and a Storage Container.
With Administration System Support + Adapter + Cup + Teat
Ideal for Moms with Cracks or Irritation Problems.
SUAVINEX Manual Breast Pump
SUAVINEX Manual Breast Pump extracts breast milk in a comfortable and painless way.
By gently and rhythmically pressing the lever you achieve a pump that extracts milk effortlessly, imitating the baby's sucking rhythm.
Very suitable for occasional pumping and for those mothers who prefer a simpler, more intuitive system with few pieces.
Ideal to continue enjoying breastfeeding wherever you are, and for those mothers with problems with cracks or irritations.
Includes:
Manual breast pump.
3 Breast milk bags with caps.
1 Storage container.
Complete administration system, consisting of a support, an adapter for it, and a protective cup with silicone nipple and adaptable flow (A).
Transparent bag.
Designed to be compatible with any of the Suavinex bottles.
Benefits of using SUAVINEX Manual Breast Pump
Manual breast pump.
Extract breast milk.
Gentle pressing for pumping.
Comfortable and not painful.
Effortless.
Includes 3 bags and a storage container.
With administration system support + adapter + cup + nipple
Ideal for moms with cracks or irritation problems.
Instructions for use of SUAVINEX Manual Breast Pump
The bottle is screwed onto the extractor.
The pad is placed on the chest.
The extraction begins in a continuous and gentle manner.
The extractor must be in a vertical position.
You can help combine this product with any other from our range of Breast Pumps and Storage Bags
Or if you prefer, you can click on the following link to View or Buy Suavinex Products