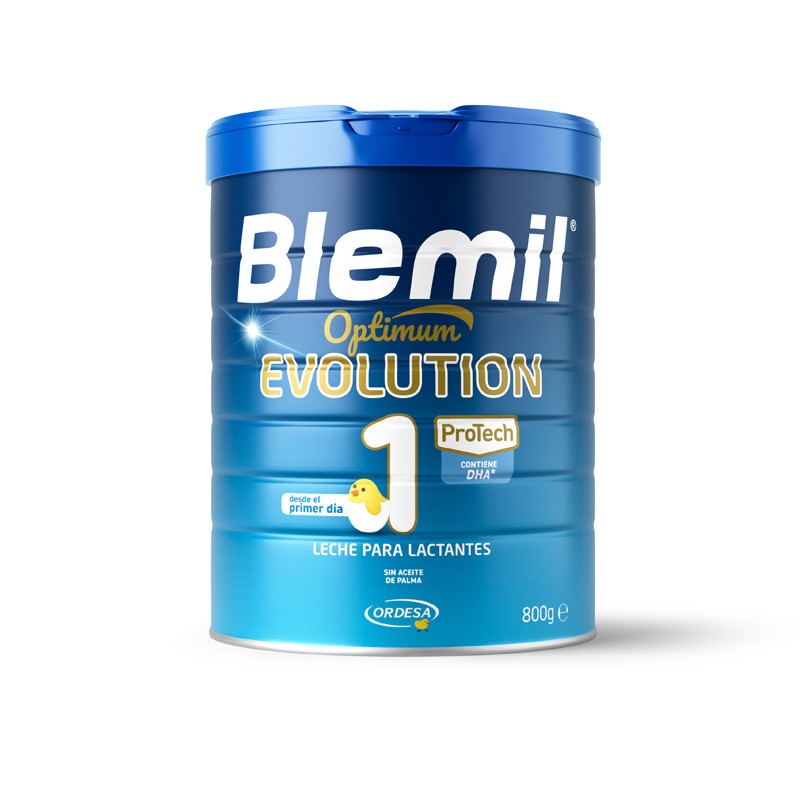  
BLEMIL 1 Optimum Evolution Infant Milk 800g
Blemil 1 Optimum Evolution Infant Milk.
For Babies from Birth to 6 Months.
BLEMIL 1 Optimum Evolution Infant Milk 800g
BLEMIL 1 Optimum Evolution Infant Milk 800g is a new milk formula for newborns, with the latest advances in protection.
Who is BLEMIL 1 Optimum Evolution Milk for Infants 800g indicated for?
This milk is recommended to meet the needs of the baby up to 6 months of age.
Breast milk is the best food for the infant during the first months of life, but when for any reason it is not possible, it will be up to the pediatrician or health professional who monitors their growth and development to recommend the most appropriate alternative.
What is the composition of BLEMIL 1 Optimum Evolution Infant Milk 800g?
Lactose (milk), Vegetable oils (High oleic sunflower, Rapeseed, Sunflower), Whey proteins (milk), Dairy fat (milk), Skimmed milk A2, Inulin, Minerals (Potassium, Calcium, Chloride, Phosphorus, Sodium, Magnesium, Iron , Zinc, Copper, Iodine, Manganese, Selenium), 2'-fucosyl-lactose/difucosyl-lactose mixture (2'-FL/DFL) (milk), Fish oil (DHA), Mortierella alpina oil (AA), Choline, Vitamins (C, E, Niacin, Pantothenic acid, Riboflavin, Thiamine, B6, A, Folic acid, K, Biotin, D, B12), Inositol, L-Phenylalanine, 6'-sialylactose sodium salt (6'- SL) (milk), 3'-sialylactose sodium salt (3'-SL) (milk), Emulsifier (Sunflower Lecithin), Taurine, Nucleotides (Cytidine, Uridine, Adenosine, Inosine, Guanosine), Antioxidants (Mixture of tocopherols , Ascorbyl palmitate), L-Carnitine, Bifidobacteria and Lactobacilli (L. rhamnosus HN001, B. bifidum, B. breve, B. infantis IM1, L. helveticus, L. rhamnosus R11) 1x109 CFU/100 g, Acidity corrector (Citric acid).
How is BLEMIL 1 Optimum Evolution Infant Milk 800g prepared?
Wash your hands well before preparing the bottle.
Clean and disinfect the bottle parts by boiling them before feeding.
BLEMIL 1 Optimum 1 Evolution is prepared by mixing a measure of 4.3g for 30ml of water.
Always follow the instructions regarding quantities that appear in the dosage table.
Use the measuring scoop that is inside the packaging.
Close the bottle and shake it until its contents are completely dissolved.
Check the temperature before giving it to baby.
You can help combine this product with any of our other ranges of Infant Milk for Babies.
Or you can click on the following link to see more Blemil Products