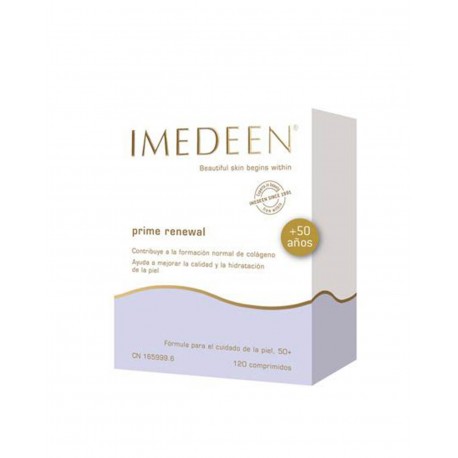  
IMEDEEN Prime Renewal 120 Capsules
Nutritional supplement.
Helps Fight the Visible Signs of Aging.
Extra Contribution of Vitamins.
Great Hydration.
Maintains the Firmness of the Skin.
Contributes to Collagen Formation.
Soft, Smooth and Flexible Skin.
Reduces the Appearance of Wrinkles and Expression Lines.
Protects Cells Against Oxidative Damage.
Reduces symptoms of menopause.
Ideal from 50 years.
IMEDEEN Prime Renewal
IMEDEEN Prime Renewal is a nutritional supplement that represents an innovative proposal for the care and beauty of the skin, acting from the inside of the body and helping to combat the visible signs of aging on the skin.
Rehydrates the skin and restores its resistance to damage by free radicals thanks to the extra supply of vitamins, in a powerful dose that helps to correctly perform the most basic functions of our body.
These tablets maintain the firmness of the skin, contribute to the normal formation of collagen and help the skin of the face and body feel softer, smoother and more flexible.
IMDEEN Prime Renewal reduces the appearance of wrinkles, fine lines and other signs of aging.
In addition, it helps to improve the quality and hydration of the skin, protecting the cells of the dermis against oxidative damage.
In just 12 weeks the results will be remarkably visible. I deal from the age of 50, helping to mitigate the symptoms of menopause on the skin.
Benefits of IMEDEEN Prime Renewal
Nutritional supplement.
Helps fight the visible signs of aging.
Extra contribution of vitamins.
Great hydration.
Maintains the firmness of the skin.
Contributes to the formation of Collagen.
Soft, smooth and flexible skin.
Reduces the appearance of wrinkles and expression lines.
Protects cells against oxidative damage.
Reduces symptoms of menopause.
Ideal from 50 years.
How to use IMEDEEN Prime Renewal
Take two tablets in the morning and two at night.
It is recommended to consume with a glass of water.
Maintain its use in the long term.
From 12 weeks the effects will be clear and visible.
You can help to combine this product with any other from our range of Nutricosmetics or Vitamin and Mineral Supplements
Or if you prefer, you can click on the following link to View or Buy Pfizer Products
Envío desde 2.99€
y GRATIS desde 59€.