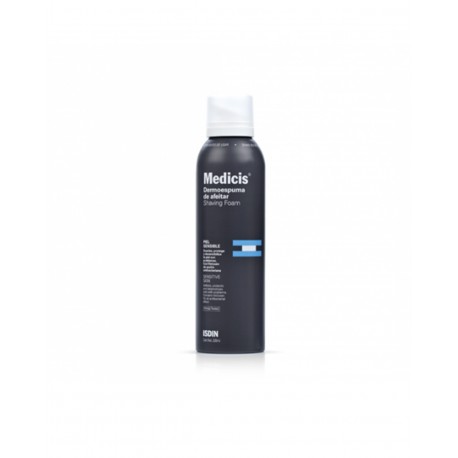  
ISDIN MEDICIS Shaving Dermofoam 200ml
Shaving foam for men.
For sensitive, irritable skin and difficult beard.
Provides softness.
Avoid irritations.
Desensitizes sensitive skin.
Contains Triclosan and Piroctone Olamine.
200ml format.
ISDIN MEDICIS Shaving Dermofoam 200ml
This dermofoam softens and protects the skin from irritation caused by conventional razors, leaving skin fresh and completely healthy.
It is used for a quick and effective shave, since the creaminess and density of this dermofoam allows for better sliding over the skin and does not cause any type of irritation or folliculitis.
In addition, it contains Triclosan which serves as a disinfectant , preservative, fungicide and antiseptic ; and Pirotocna Olamine which has antifungal and antibacterial action.
These act in synergy to control dandruff that occurs in the hair and infections that occur in the skin such as itching, rashes and the appearance of pimples, promoting healthy and well-finished skin.
It is dermatologically tested to guarantee its effectiveness and good tolerability on the skin, safeguarding safety and maximum care.
What are the benefits of ISDIN MEDICIS Shaving Dermofoam 200ml?
Specially formulated for sensitive skin.
Softens and protects the skin.
Makes shaving easier and faster .
Provides a pleasant freshness.
Moisturizes if the skin is dry.
Regulates the state of the complexion.
Avoid irritation.
Dermatologically tested.
Who can be recommended to use ISDIN MEDICIS Dermofoam Shaving 200ml
Product dermatologically tested to guarantee good tolerance and safety on all skin types , including sensitive skin. It is a specialized dermofoam for sharpening difficult beards and helps protect irritable skin.
Main assets of ISDIN MEDICIS Shaving Dermofoam 200ml
Triclosan: is a disinfectant, preservative, fungicide and antiseptic.
Pirotocna olamina: component with antifungal and antibacterial action.
Aloe Vera: offers softness, strengthens and stimulates the elastin and collagen fibers of the skin.
Glycerin: moisturizes and hydrates the skin.
How is ISDIN MEDICIS Shaving Dermofoam 200ml applied?
Moisten the skin and spread gently to form a foam.
Let it sit for a few minutes and proceed to shave.
Then, remove with plenty of water and dry with a towel exclusively for the face.
You can help combine this product with any other from our range of Men's Shaving
Or if you prefer, you can click on the following link to view or Buy ISDIN Products