-28.16%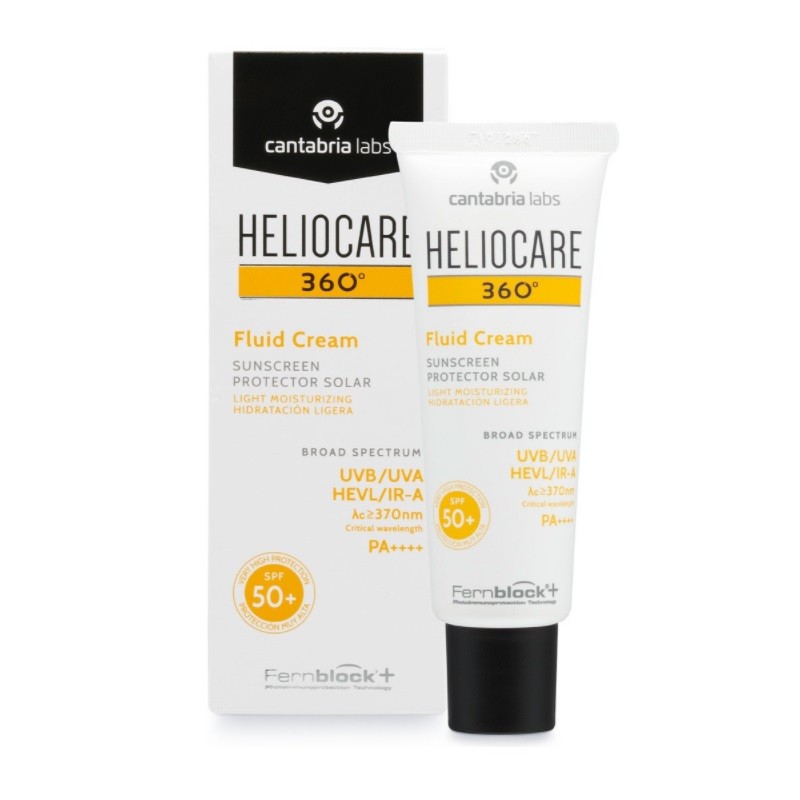  
HELIOCARE 360º Fluid Cream 50ml
Soft and Moisturizing Photoprotective Cream.
Broad Spectrum Protection (SPF50+, PA++++, Visible and Infrared).
Sun Damage Repair Activity.
Antioxidant action.
Nourishes and Hydrates.
Leaves the skin soft.
Does not leave a White Residue or Mask Effect.
Prevents Photoaging.
Non Comedogenic.
Smooth Texture like Cream.
Silk and Invisible finish.
Without Parabens.
Tested under dermatological control.
Tested under ophthalmological control.
Indicated for Normal or Dry skin.
HELIOCARE 360º Fluid Cream 50ml
Sunscreen with very high photoprotection in an innovative texture as smooth as cream and with a fluid gel finish . Prevents skin photoaging . No parabens.
Its non-comedogenic fluid cream formula is perfect for normal or dry skin . Nourishes and hydrates the skin leaving it soft .
After its application, it does not leave a feeling of heaviness on the skin or a white residue or mask effect.
Heliocare 360º Fluid Cream is one of the latest Heliocare innovations that has been designed and formulated to meet high demands in terms of photoprotection. A protection with 360º effect.
How does Heliocare 360º work on the skin?
Protects : Offers IFC's broadest coverage of harmful radiation by combining in its formula the most advanced combination of UVB and UVA filters and the BioShield System shield, IFC's technological solution to ensure protection against visible radiation and IR -TO.
Neutralizes : It includes in its formula a powerful antioxidant complex formed by the new Fernblock® FC, enriched in ferulic and caffeic acid, and green tea and vitamins C and E. This combination achieves a powerful neutralizing capacity of free radicals.
Repairs : Accelerates the repair of the damage produced by radiation in the DNA of the cells thanks to the roxisomes.
Surprising : Innovative texture that is soft like a cream and melts like a gel on contact with the skin for a silky and invisible finish . Maximizes photoimmunoprotective action.
What properties does Heliocare 360º Fluid Cream have?
Soft and moisturizing photoprotective cream.
Broad spectrum protection (SPF50+, PA++++, Visible and Infrared).
Sun damage repair activity.
antioxidant action.
Nourishes and hydrates.
Leaves the skin soft.
Does not leave a white residue or mask effect.
Prevents photoaging.
Non comedogenic.
Smooth texture like cream.
Silk and invisible finish.
No parabens.
Tested under dermatological control.
Tested under ophthalmological control.
Indicated for normal or dry skin.
For whom is it indicated?
Heliocare 360º Fluid Cream is indicated for normal or dry skin .
Composition of Heliocare 360º Fluid Cream
Optimal and stable combination of solar filters.
Fernblock®+.
Glycosylase.
Physavie.
OTZ 10.
biomimetic melanin.
Heliocare Fernblock® Protection Levels
Fernblock® has shown numerous benefits in more than 50 studies and scientific publications, both topically and orally. In addition, its extraction method has been optimized, enhancing its activity and giving rise to a new generation extract: Fernblock®+ .
Sun protection : Fernblock® has been shown to multiply the skin's resistance to sunburn . Its protective activity extends to the entire radiation spectrum , protecting our skin from specific damage caused by the 4 radiations (UVB, UVA, Visible and IR).
DNA damage repair : Solar radiation causes damage to the DNA of our cells that accumulates and can lead to health problems. Fernblock® technology has been shown to prevent the formation of this damage and increase and accelerate its repair. This activity helps prevent sun damage from accumulating , reaching advanced photoprotection levels.
Antioxidant activity : The powerful antioxidant action of Fernblock® is due to different molecules concentrated in the extract, capable of neutralizing and eliminating free radicals that are generated during and after exposure.
Prevention of photoaging and control of spots : Fernblock® technology protects our skin cells and increases collagen, hyaluronic acid and elastin , fundamental components to maintain its structure. Thus, it prevents the formation of wrinkles and loss of firmness . It also helps to reduce the intensity and size of dark spots and improves the skin's resistance to pigmentation .
Immunological defense : Our skin has an important defense system against external aggressions that is negatively affected by the sun. More exposure to the sun increases our vulnerability. Fernblock® protects and regulates skin defenses so that they keep intact their capacity against external threats.
How is Heliocare 360º Fluid Cream applied?
Shake before using.
Apply generously and evenly before sun exposure.
Reapply frequently, especially after prolonged baths or excessive sweating.
You can combine this product with one more of our Range of Facial Photoprotective Cares or Sun Protection (Body, Aftersun, Tanning...)
Or if you prefer, you can click on the following link to see more HELIOCARE Products

Envío desde 2.99€
y GRATIS desde 59€.