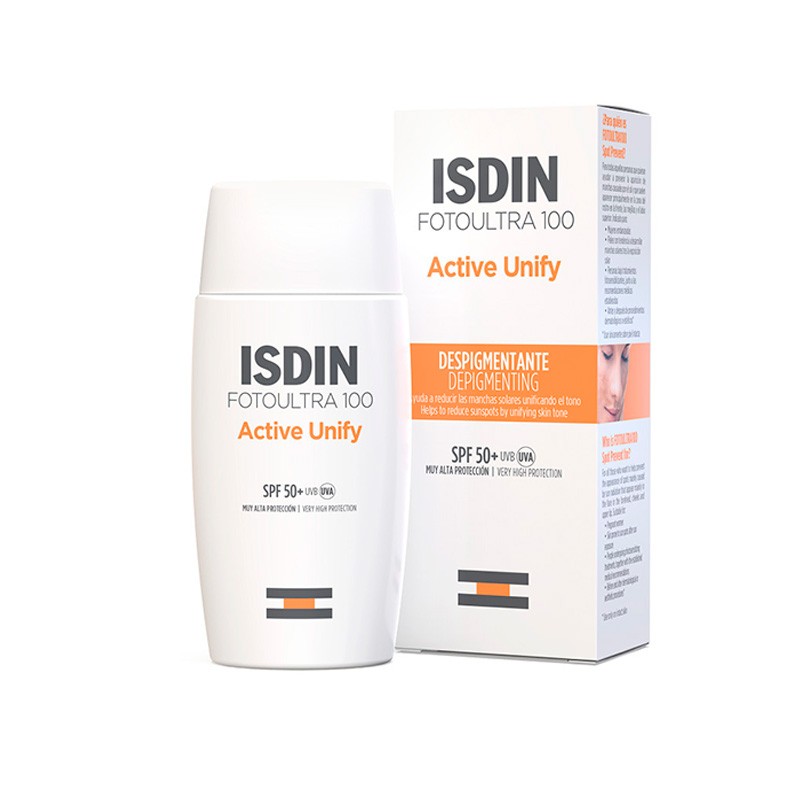  
ISDIN Photo Ultra 100 Active Unify Depigmenting (SPF 50+) 50ml
ISDIN sunscreen.
Sun Protection SPF 50+.
Triple Depigmenting Action.
Lightens and Unifies the Skin Tone.
Reduces and Prevents Sun Spots.
Improves the elasticity of the skin.
Regulates Melanin Production.
Fusion Fluid Ultra Light Texture.
Promotes Skin Regeneration.
Indicated for Especially Photosensitive Skins.
What is ISDIN Foto Ultra 100 Active Unify Depigmenting (SPF 50+) 50ml?
ISDIN Foto Ultra 100 Active Unify Fusion Fluid SPF 50+ is a photoprotective fluid with triple depigmenting action that lightens and evens out skin tone .
Helps reduce sun spots thanks to the DP3-Unify Complex, with proven efficacy in regulating melanin production.
In addition, its SPF 100 sun protection factor offers 2 times more UVA protection than the minimum required in an SPF 50+ sunscreen, preventing the formation of new spots , since UVA radiation is the main stimulus for the formation of pigmentation.
Foto Ultra 100 ISDIN Active Unify Fusion Fluid contains Hyaluronic Acid , which improves skin elasticity and reduces wrinkles , and allatoin , which promotes skin regeneration .
Formulated in a Fusion Fluid texture, ultra-light and fast-absorbing, that melts into the skin. Waterproof.
Oil-free formula, non-comedogenic and hypoallergenic, minimizing the risk of allergies, which makes this sunscreen suitable for sensitive and atopic skin. Dermatologically tested.
Who is ISDIN Foto Ultra 100 Active Unify Depigmenting (SPF 50+) 50ml recommended for?
ISDIN Active Unify is indicated for all those who want to treat spots due to the sun that usually appear mainly on the forehead, cheeks and upper lip . Skins that currently have sun spots.
Advantages provided by ISDIN Foto Ultra 100 Active Unify Depigmenting (SPF 50+) 50ml
ISDIN sunscreen.
SPF 50+ sun protection.
Triple depigmenting action.
Lightens and evens out the skin tone.
Reduces and prevents sun spots.
Improves skin elasticity.
Regulates the production of melanin.
Ultra light Fusion Fluid texture.
Promotes skin regeneration.
Indicated for especially photosensitive skin.
How to use ISDIN Foto Ultra 100 Active Unify Depigmenting (SPF 50+) 50ml?
To use as a sunscreen, apply generously to dry skin half an hour before sun exposure and reapply every 2 hours.
To use as a depigmentation agent , use daily, even if we are not going to expose the skin to the sun, for at least 3 months, 2 times a day.
Shake before using.
Reapply after perspiring, swimming, bathing, towel drying and during continued sun exposure.
If the amount applied is not adequate, the level of protection will be significantly reduced.
Avoid direct contact with eyes and mucous membranes.
You can help to combine this product with any other from our range of Photoprotectors or Depigmenting
Or if you prefer, you can click on the following link to see or Buy Isdin Products
Envío desde 2.99€
y GRATIS desde 59€.