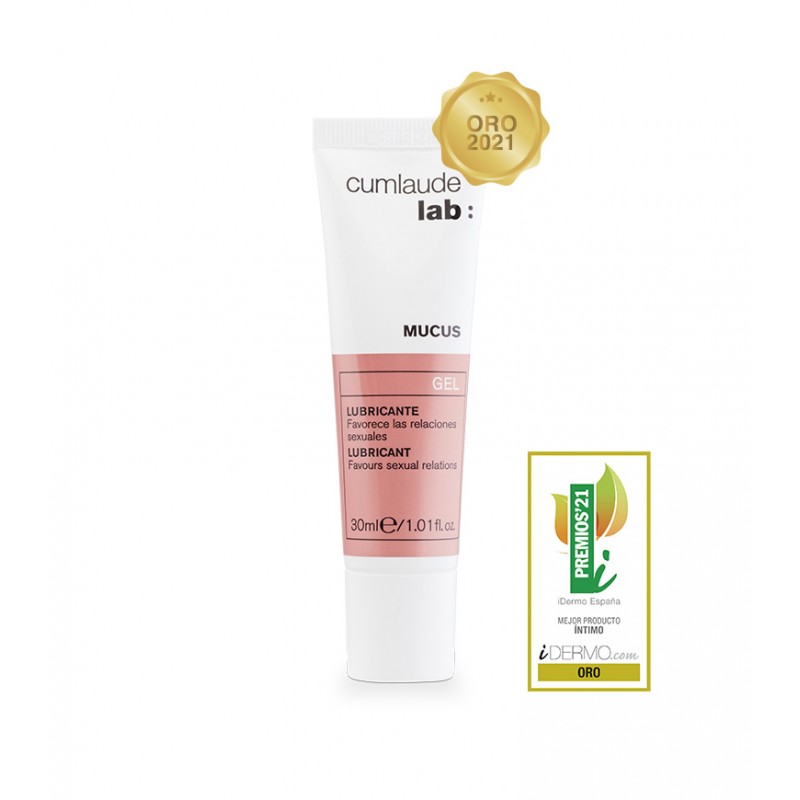  
CUMLAUDE LAB Mucus Vaginal Lubricant Gel 30ml
Water-based intimate lubricant gel.
For women with vaginal dryness.
Moisturizes and softens the intimate area.
Consistency similar to cervical mucus.
Hypoallergenic.
Not stain.
Without perfumes.
Without colorants.
Compatible with condoms.
Easy application.
With hyaluronic acid and natural lactic acid.
Clinically and gynecologically tested.
--> Discover more CumLaude products
CUMLAUDE LAB Mucus Vaginal Lubricant Gel 30ml
Water-based intimate feminine lubricant gel , with a consistency similar to cervical mucus that is secreted naturally.
It is a sanitary product especially indicated for women who suffer from vaginal dryness and that facilitates sexual intercourse.
Thanks to its formulation with hyaluronic acid and lactic acid , it keeps the intimate area soft and hydrated.
It has been clinically and dermatologically tested and is compatible with the use of condoms.
It is a vaginal lubricant that provides viscosity , consistency and a better sensation to touch, all to achieve a more pleasant intercourse for the couple.
If you suffer from discomfort during intercourse due to a lack of vaginal lubrication, and you are looking for an intimate gel that is easy to apply and leaves no residue, this product is ideal for you: CUMLAUDE LAB Mucus Vaginal Lubricant Gel.
Benefits of using CUMLAUDE LAB Mucus Vaginal Lubricant Gel
Lubricates, moisturizes and softens the intimate area of ​​women.
Helps alleviate vaginal dryness.
It favors sexual relations to make them more pleasant.
Compatible with the use of the condom: it does not alter its integrity.
Texture similar to cervical mucus: provides texture, viscosity and a better touch.
Facilitates the placement of tampons.
No fragrance.
Without colorants.
Hypoallergenic.
Not stain.
Easy application.
Dermatologically and gynecologically tested.
This intimate gel for women with vaginal dryness is ideal for lubricating the intimate area , improving its hydration level , and enjoying intercourse.
Who is it recommended for?
This lubricating gel is indicated for women who suffer from vaginal dryness and discomfort during sexual intercourse.
This product has been clinically and gynecologically tested. It is especially indicated for them, since the consistency of the product is similar to physiological vaginal secretions and comes to replace that lack of natural lubrication.
Thanks to CUMLAUDE LAB Mucus, the genital area remains soft and hydrated and becomes your ally to enjoy sex without the complications derived from dryness.
Main ingredients
The intimate gel CUMLAUDE LAB Mucus Gel is formulated on an aqueous basis, with a PH compatible with the genital area and is made up of:
Hyaluronic Acid : it is a polysaccharide with a viscous texture and it has an important role in the hydration and elasticity of the tissues (especially the skin). Improves lubrication during sexual intercourse and takes care of the upper layers of the dermis.
Natural Lactic Acid : belongs to the category of alpha hydroxy acids. It is a powerful exfoliant, antioxidant and also stimulates the production of hyaluronic acid, essential for skin hydration. It is the one that causes the vaginal pH to decrease, and encourages the growth of beneficial bacteria in the vaginal flora.
How is this intimate lubricant applied?
CUMLAUDE LAB Mucus Vaginal Lubricant Gel is an intimate health product that is easy to apply and can be used every time you have sexual intercourse.
You should put a suitable amount of the lubricant on your fingertips and apply it to your genitals before sex , and you can even renew it if necessary during it.
It is recommended that both you and your sexual partner use the gel to obtain better results and more pleasant relationships.
You can use CUMLAUDE LAB Mucus with or without a condom.
You can combine this product with another from the Sexual Health range
Or if you like this brand, I advise you to take a look at more items from the CUMLAUDE Range
Envío desde 2.99€
y GRATIS desde 59€.