-30.14%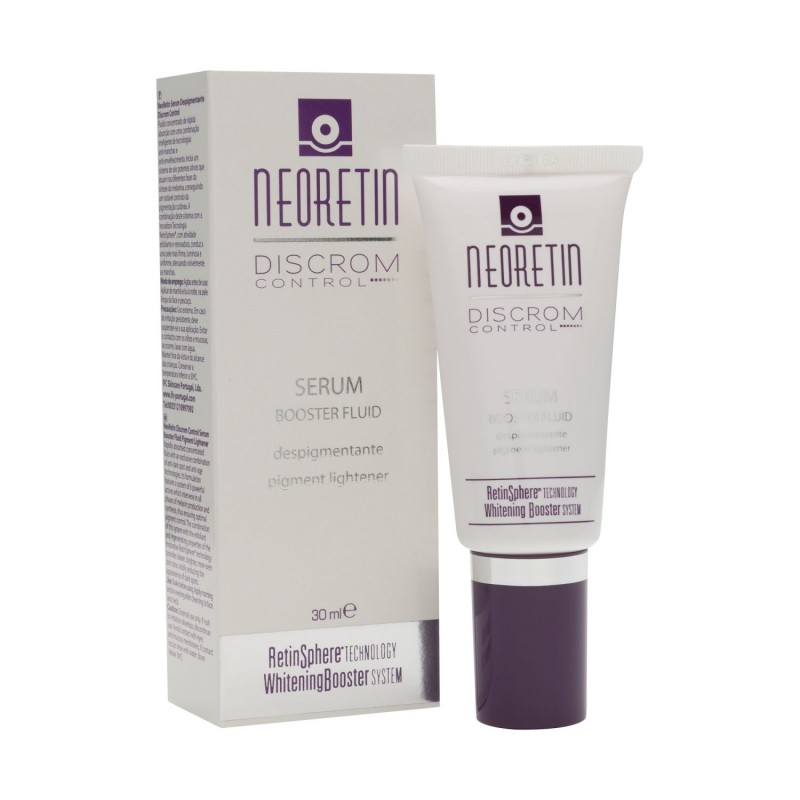  
NEORETIN Discrom Control Depigmenting Booster Fluid Serum 30ml
Anti-stain and Anti-aging Depigmenting Serum.
Helps exfoliation and epidermal renewal.
Prevents the formation of Melanin.
Helps combat skin hyperpigmentation
What is Neoretin Discrom Control Serum Booster Fluid Depigmentation?
Neoretin Discrom Control Serum Booster Fluid is a concentrated, fast-absorbing fluid that combines anti-stain and anti-aging technologies. It is formulated with the new RetinSphere Technology, with great exfoliating and renewing activity . It also contains Whitening Booster System, a powerful depigmenting system with six active ingredients that act in all phases of melanin production.
This Neoretin Discrom Control Serum is the perfect Depigmenting Treatment that will help you Unify the Skin Tone of your complexion, especially if the first spots have appeared as a Sign of Age.
This new Neoretin formula has an improved composition due to its greater depigmenting , retinizing, retexturizing and anti-pollution capacity, ideal for skin with blemishes , even persistent ones, for photo-aged skin with blemishes or those with post-inflammatory hyperpigmentation .
The spots on the skin reflect areas of the skin where there are accumulations of melanin , a natural pigment that gives our skin its color. There are many types of pigmented spots and they are mainly divided into congenital and acquired .
Those of congenital origin

appear from birth or in childhood , they are moles or melanocytic nevus.

The acquired ones

generally appear in adulthood , the most common being solar lentigines ( age spots ) whose appearance is due to the effects of ultraviolet light and melasma that can appear due to hormonal factors .
To prevent spots it is essential to protect ourselves from sun exposure using filters with a high protection index , it is the most effective measure to prevent photoaging of the skin and the appearance of spots .
What are the benefits of using Neoretin Discrom Control Serum Booster Fluid Depigmentation?
Helps exfoliation and epidermal renewal .
Wrinkles and Acne are smoothed out .
the skin becomes smoother and more luminous .
Prevents the formation of melanin.
Reduces stains .
Skin tone becomes more even .
How to apply Neoretin Discrom Control Serum Booster Fluid Depigmentation?
Apply Morning and/or Night on Clean and Dry Skin of the Face and Neck to help achieve remarkable control of skin depigmentation .
You can help to combine this product with any other of our Range of Depigmentation
Or if you prefer, you can click on the following link to see more Neoretin Product
Envío desde 2.99€
y GRATIS desde 59€.