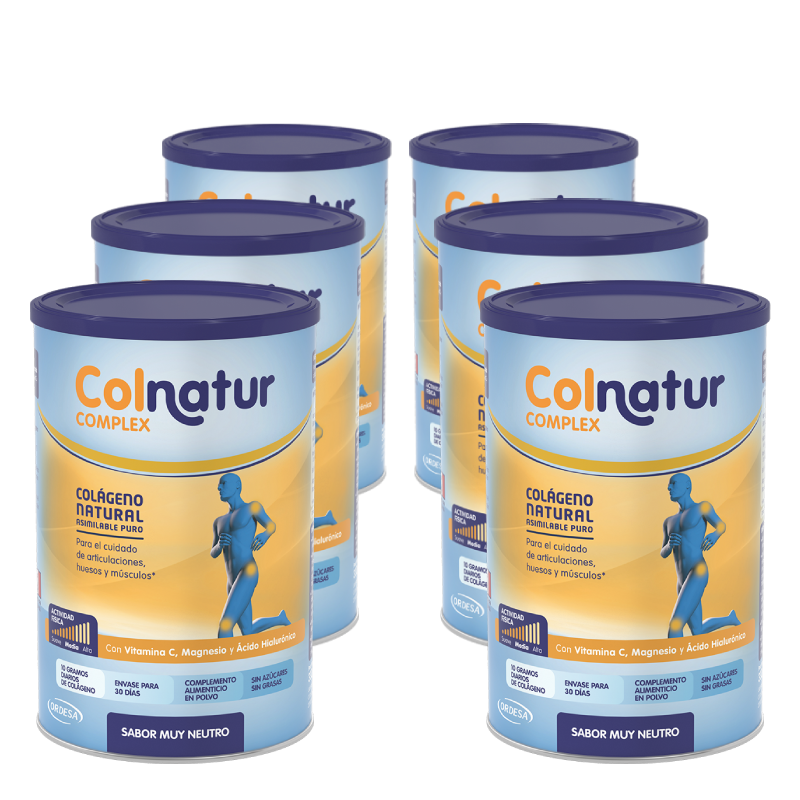  
COLNATUR Complex Neutral Soluble Collagen PACK 6x330g
Dietary supplement.
Bone, Joint, Muscle and Skin Care.
Reduces Tiredness and Fatigue.
Improves Flexibility and Well-being.
With Vitamin C, Hyaluronic Acid and Magnesium.
Soluble Collagen Powder.
Excellent Dissolution.
No Sugars or Fats.
Neutral flavor.
PACK format 6x330g.
What is COLNATUR Complex Neutral?
COLNATUR Soluble Collagen Neutral Complex is a food supplement that helps care for bones, joints, cartilage, muscles, gums, teeth and skin.
Reduce tiredness and fatigue, preparing your body for an active lifestyle.
Made with Collagen, a natural, highly assimilable and pure hydrolyzed protein, with a fundamental role in the maintenance of bones, joints, muscles, cartilage, gums, teeth and skin, with clinically proven efficacy.
Enriched with Hyaluronic Acid and Magnesium, which improves bone, cartilage and muscle flexibility , providing well-being.
Especially indicated for people who practice moderate physical exercise and want to take care of their bones, specifically, from the age of 40.
This soluble collagen powder presents an excellent dissolution.
COLNATUR Complex is formulated without sugars or fats.
Neutral flavor.
What benefits does COLNATUR Complex Neutro provide?
Dietary supplement.
Care of bones, joints, muscles and skin.
Reduces tiredness and fatigue.
Improves flexibility and well-being.
With Vitamin C, Hyaluronic Acid and Magnesium.
Soluble collagen powder.
Excellent dissolution.
No sugars or fats.
Neutral flavor.
PACK format 6x330g.
What composition does COLNATUR Complex Neutral have?
COLNATUR Complex is made up of several ingredients with great beneficial properties:
Hydrolyzed Collagen Protein: Contributes to preserving muscle mass and maintaining bones under normal conditions.
Vitamin C: Contributes to muscle regeneration, since it participates in the production of collagen.
Magnesium: Nutrient that, taken orally, helps reduce tiredness and fatigue, as well as muscle function.
Hyaluronic Acid: Important component of joints and skin, where it acts as a lubricant and water retainer.
How is COLNATUR Complex Neutral used?
It is advisable to take 10 grams of the product daily (the entire content of the dispenser).
Dissolve in a minimum of 150 ml of water, animal or vegetable milk, alone or with coffee, cocoa...
It can also be mixed with yogurt, smoothies, infusions, juices... depending on the flavor or texture you prefer.
The contents of the container last 30 days.
You can help to combine this product with some more of our range of Collagen and Magnesium Supplements
Or if you prefer, you can click on the following link to see or Buy Colnatur Products
¡ENVIO GRATIS en este producto!