-23.55%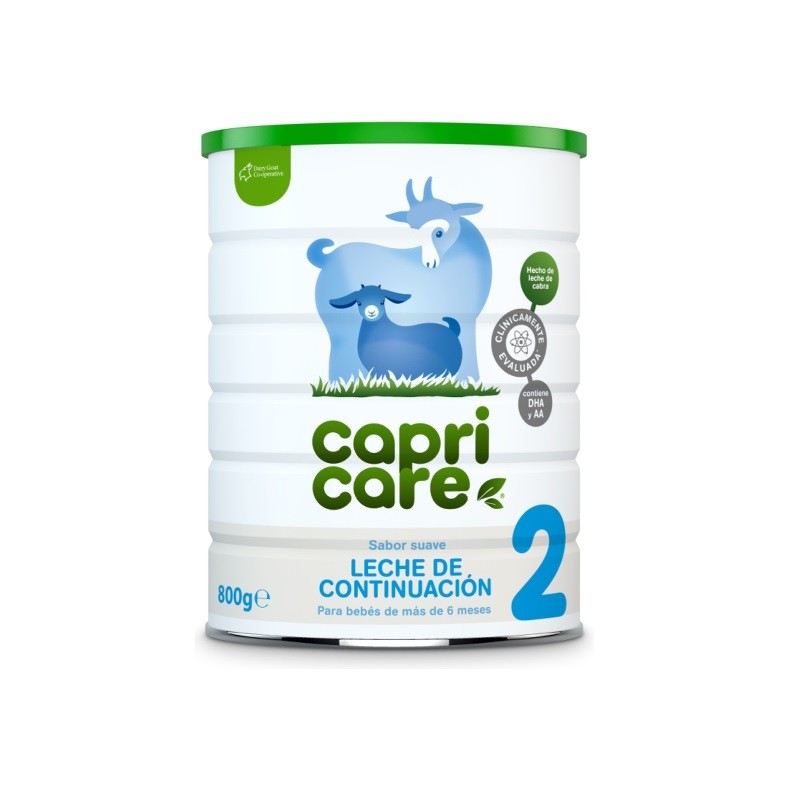  
CAPRICARE 2 Follow-on Milk based on Goat Milk 800gr New Formula
Follow-on Milk based on goat's milk.
With Natural Components of Milk: Fats, Vitamins and Minerals.
Pleasant smell and taste for the baby.
100% Palm Oil Free.
Less Processed.
More Digestive.
Indicated from 6 months.
Capricare 2 Follow-On Milk based on Goat Milk
Capricare 2 is the first Follow-On Milk made from whole goat milk that helps the baby's complete development in a more Natural way . Less processed and more digestive .
It maintains the natural properties of goat milk and is made in a simple way that avoids overprocessing to protect all its essential nutrients .
Thanks to the properties naturally present in whole Goat Milk , Capricare Follow-on Milk is a soft and tasty formula in the baby's tummy, nutritionally complete, indicated for babies over 6 months .
Based on the naturally good properties of goat's milk , Capricare 's formula provides the vitamins, minerals and nutrients necessary to complement a varied and balanced diet for the baby .
Additionally, Capricare contains DHA , which helps babies up to 12 months old* develop normal vision.
*Benefit obtained with the daily intake of 100 mg of DHA.
Formula milk is an alternative to breastfeeding , which should always be the first option since it is the best for infants. However, when breastfeeding is not possible , preparations and formula milk can be used that guarantee adequate development of the baby .
The WHO recommends exclusive breastfeeding up to 6 months. Farma2go supports this recommendation on breastfeeding, along with the introduction of new foods, in accordance with the advice of health professionals.
Benefits of taking Capricare 2 Follow-on Milk based on Goat Milk
100% Palm Oil Free .
Use of whole milk . Capricare maintains the natural components of milk such as fats, vitamins and minerals . Most infant formulas on the market use skimmed milk and then add vegetable fats to compensate.
More natural manufacturing process . Most other infant formulas use more complex manufacturing processes by breaking down milk. Capricare uses a simple and natural manufacturing process, adding only essential elements such as vitamins, minerals and other nutrients to whole milk to make a nutritionally complete formula for babies over 6 months .
Better absorption of Fatty Acids . Whole goat milk has 46% more medium chain fatty acids than cow's milk . These medium chain fatty acids have more efficient absorption than long chain fatty acids.
Nice for the baby . The use of whole milk and the production process provide a pleasant smell and taste for the baby .
Preserves more cellular components . Unlike cow's milk, goat's milk, like human milk , predominantly has a secretion process that releases cellular components present in milk such as nucleotides and free amino acids .
Energy contribution from fats . Capricare , being made with whole goat milk , includes fatty acids that are naturally found in milk fat . A baby needs between 40 and 50% of his energy from fats .
Clinically proven. Capricare formulas are the result of more than 20 years of research on goat milk nutrition for children including double-blind studies.
Capricare 2 Continuation Milk Ingredients
Pasteurized whole goat milk, lactose (from milk), blended vegetable oils (high oleic sunflower oil, canola oil, sunflower oil, antioxidants (sunflower lecithin, mixed tocopherols)), pasteurized goat milk powder, fish oil powder (source of docosahexaenoic acid), Mortierella alpina oil powder (source of arachidonic acid), minerals (sodium citrate, dicalcium phosphate, calcium citrate, calcium hydroxide, potassium chloride, ferrous sulfate, calcium sulfate zinc, cupric sulfate, manganese sulfate, potassium iodide, sodium selenite), choline chloride, L-tyrosine, L-tryptophan, L-cystine, vitamins (dl-α-tocopheryl acetate, L-ascorbic acid, nicotinamide , cholecalciferol, retinyl acetate, calcium d-pantothenate, cyanocobalamin, phytomenadione, thiamine hydrochloride, riboflavin, pyridoxine hydrochloride, folic acid, d-biotin), L-isoleucine, taurine, L-carnitine.
*This product contains 38% goat milk in dry matter.
Attention : Goat's milk baby formula is not suitable for children who have been diagnosed with an allergy to cow's milk protein. Consult a health professional.
Why choose Capricare?
Easy to digest : Goat milk feels very good in the stomachs of the little ones . This is because it has a different protein composition than cow's milk , which makes it behave differently in your tummy. Once digested , the soft rennet of goat milk separates more easily , helping your stomach to relax.
Made with whole milk : Unlike most infant formulas, Capricare is made with whole milk , which means that the natural properties of milk fat are preserved, which is one of the essential nutrients also found in breast milk . Capricare is nutritious in the most natural way.
Natural : Goat milk also naturally contains many prebiotics, up to eight times more than cow's milk. Due to its unique protein structure, it also has lower levels of a common milk allergen : alpha S1-casein.
How to take Capricare 2 Follow-On Milk based on Goat Milk?
Preparation : Prepare the bottle just before feeding your baby.
Sterilization : Always wash your hands and work utensils before preparing the bottle. Add the exact measure of mineral water at room temperature (appropriate for your baby or recommended by your doctor) or boiled water at a maximum of 40ºC to a sterilized bottle.
Measurements :Use the included Capricare spoon. Add the corresponding tablespoons, taking advantage of the edge of the can to remove the excess.
Close the bottle : Stir immediately and shake until the powders have completely dissolved.
Check: Confirm the appropriate temperature (≤ 40°C) of the preparation with the inside of your wrist. For safety reasons, do not store leftover food. Throw it away immediately.
You can help combine this product with some more from our range of Infant Food Milks & infusions
Or if you prefer, you can click on the following link to view or Buy Capricare Products