-7.3%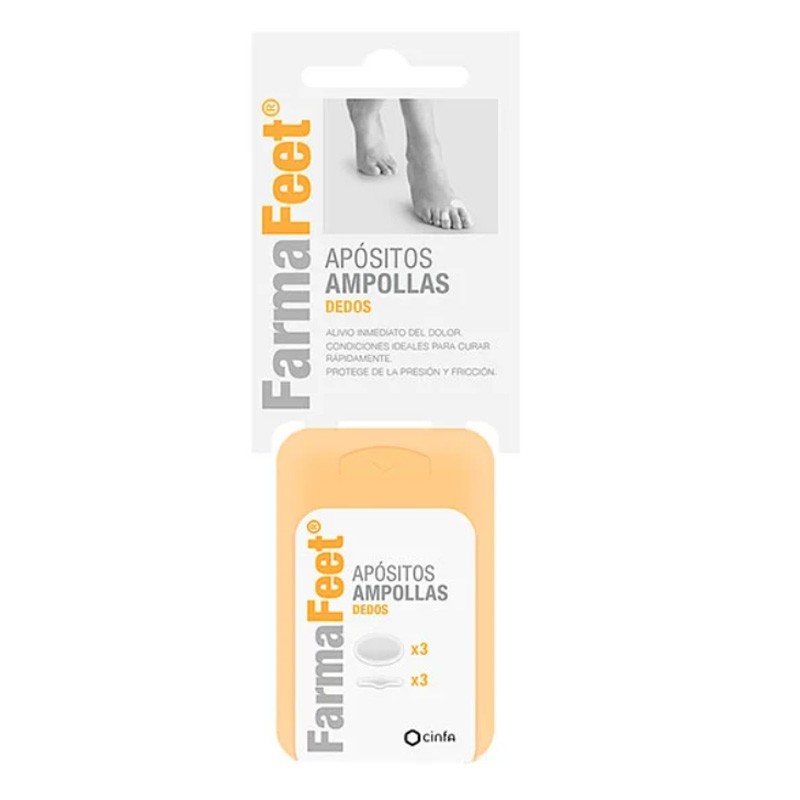  
FARMAFEET Bandages Blisters Fingers 6 Units
Bandages for blisters on fingers.
They promote healing.
Relieves pain instantly.
Protects the blister from friction and pressure.
Absorbs exudation from the wound.
Regulates the humidity level.
Waterproof.
Box with 6 units.
FARMAFEET Bandages Blisters Fingers 6 Units
FARMAFEET Finger Blister Dressings 6 Units are 100% recommended for rapid healing of blisters on fingers and in localized areas, as well as providing immediate relief.
They protect the blister from rubbing, dirt, and germs , which can make the wound take longer to heal.
The dressing absorbs the fluid that exudes from the blister and also regulates the degree of humidity, thus creating optimal conditions to accelerate healing, due to hydrocolloid technology.
Staying on the skin is essential for the blister to heal, and how long it takes will vary from person to person.
It is resistant to water, humidity, and rubbing , and it adapts perfectly in localized areas, between the fingers, on the instep or even the sides of the foot.
FARMAFEET Finger Blister Dressings 6 Units is the ideal solution to cure finger blisters and protect the area from external agents with total discretion.
For whom are they indicated?
FARMAFEET Finger Blister Dressings 6 Units are band-aids recommended to heal and protect blisters between the fingers and in localized areas of the feet.
how they are used
FARMAFEET Bandages Blisters Fingers 6 Units you can use them whenever you need, but yes, on very clean and dry skin.
Remove the soft paper from the dressing without touching the adhesive, picking it up where the arrows are.
Apply to the blister and press, avoiding creases.
Peel off the cling film in the direction indicated by the arrows, making sure the edges stick well.
*****It can remain stuck for up to 7 days or until the liquid is completely exuded.
If it starts to come off, carefully remove it.
If it's still stuck, don't tear it off.
extra tips
FARMAFEET Finger Blister Dressings 6 Units is for external use only.
Do not use on infected wounds.
Do not cut or reuse the dressing, as it will lose its properties.
If you have an allergic reaction to any of the materials that make it up, remove the dressing only if the area is very irritated or it hurts a lot.
Add these plasters to your first-aid kit to protect your fingers from blisters, and forget about discomfort and uncomfortable friction between them.
Take a look at other products in the Silicone Dressings range.
Or if you like this brand, I advise you to see other Cinfa items.
Envío desde 2.99€
y GRATIS desde 59€.