-4.45%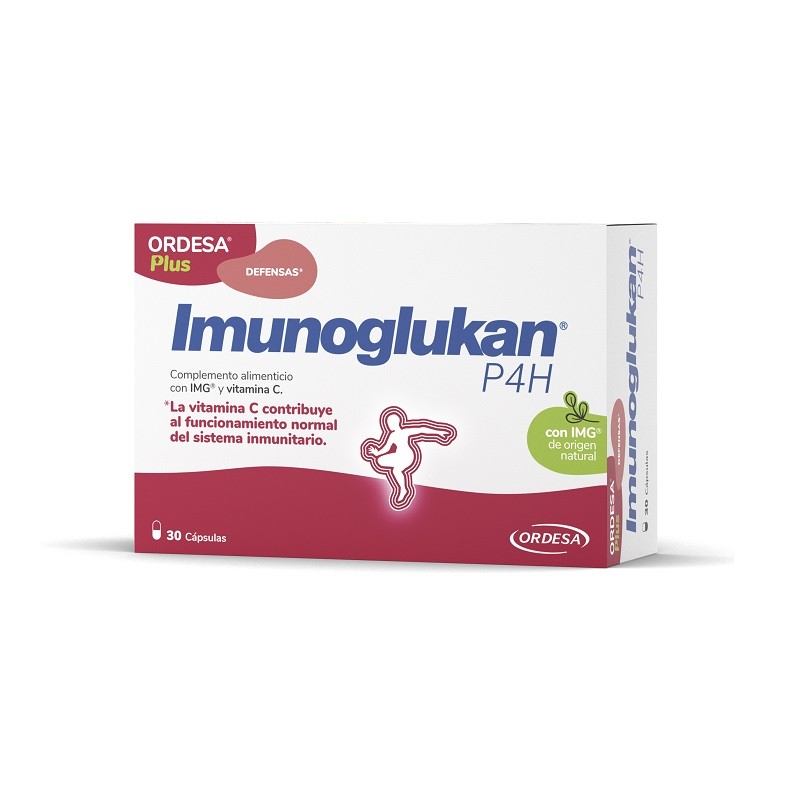  
IMUNOGLUKAN P4H 30 Capsules
Food supplement based on Imunoglukan and Vitamin C.
Helps Enhance the Correct Functioning of Natural Defenses.
Normal functioning of the Immune System.
It can be used by patients with Allergies and Diabetes.
Without gluten.
Based on Vegetable Extracts.
100% Natural Origin.
Imunoglukan Capsules P4H
Imunoglukan P4H Capsules is a Food Supplement that helps enhance the proper functioning of Natural Defenses thanks to its vitamin C content.
Imunoglukan is an immunologically active substance of natural origin that strengthens and stimulates the human immune system . It is obtained from a natural source: the Pleurotus ostreatus.
Imunoglukan Capsules P4H is of special interest in those circumstances in which the appearance of colds is more frequent, such as the incorporation and coexistence with other children in kindergarten in the case of pediatric age, the onset of cold seasons and sudden changes temperature (periods in which recurrent respiratory infections increase), or stages of intense physical or mental activity, in which strengthening defenses is useful.
Imunoglukan Capsules P4H is characterized by:
Basing its indications on the biologically active substance Imunoglukan , which has been investigated for nearly 20 years and there are various scientific publications.
Imunoglukan passes through the digestive system without being absorbed or metabolized, avoiding interaction with drugs and nutrients. In addition, it presents an excellent tolerance.
Being a product that is easy to dose , which favors compliance with its consumption in both children and adults.
Benefits of Imunoglukan Capsules P4H
Helps to enhance the Natural Defenses.
Promotes the proper functioning of the Immune System.
Contains the necessary daily dose of Imunoglukan® and vitamin C
It can be used by patients with allergies and diabetes.
Does not contain gluten.
100% Natural Origin.
Imunoglukan Capsules P4H composition
Imunoglukan Capsules P4H is composed of:
Imunoglukan : substance of natural origin formed by biologically active non-absorbable polysaccharides of plant origin , from the species Pleurotus ostreatus.
Vitamin C : powerful antioxidant that favors the normal functioning of the immune system and the elimination of free radicals and helps to compensate for the possible deficiency of this compound.
Imunoglukan P4H Capsules how to use
To help the normal functioning of the immune system

: 1 capsule a day is recommended for long periods of time (2-3 months).

In acute cases

: 2-3 capsules a day are recommended while the process lasts.
It is advisable to take the capsules with a glass of water, preferably before going to bed at night or on an empty stomach when getting up.
You can combine this product with one of our range of Vitamins for Defenses or Probiotic Supplements
Or if you prefer, you can click on the following link to see or Buy ORDESA Products
Envío desde 2.99€
y GRATIS desde 59€.