-2.51%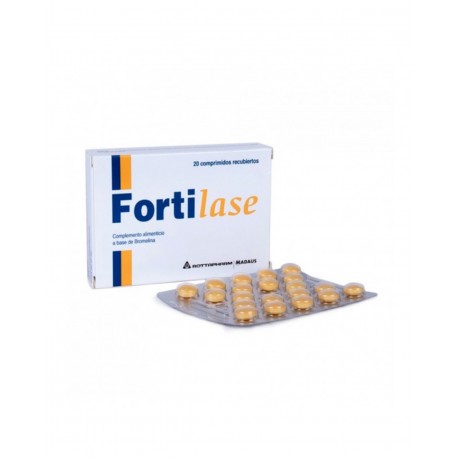  
FORTILASE 20 Tablets
FORTILASE 20 Tablets is a supplement based on Bromelain indicated for people who suffer from mild processes that cause edema and inflammation.
It is a food supplement derived from Ananas Comosus , especially recommended to treat edema, inflammation and mild pain that may be the result of bruises, sprains or strains.
It is ideal for relieving cases of heavy legs due to poor circulation .
Thanks to its main component, Bromelain, it provides an anti-inflammatory effect, which reduces the feeling of heaviness in the legs and calms swelling, improving the functioning of the circulatory system.
Advantages of using Fortilase
Bromelain-based supplement.
Recommended for people with edema, inflammation or tired legs.
Helps recover muscle after playing sports.
Stimulates good maintenance of circulatory tone.
Promotes the well-being of the osteoarticular system.
Helps facilitate recovery from small muscle injuries.
Promotes the improvement of aphonia, sinusitis or pharyngitis processes.
Suitable to take daily following the recommended schedule.
Recommended for people who cannot take anti-inflammatories.
Ingredients
FORTILASE 20 Tablets has the following composition:
Calcium hydrogen phosphate dihydrate
Calcium hydrogen phosphate anhydrous
Modified corn starch (E1422)
Bromelain 100 nanokatal/mg from Ananas comosus stem (50 mg)
Anti-caking agents: Talc, Cross-linked sodium carboxymethylcellulose, Magnesium stearate, Silicon dioxide, Oleic acid, Stearic acid
Coating agents: Ethylcellulose, Hydroxypropylmethylcellulose, Polydextrose, Sodium alginate, Medium chain triglycerides
Dyes: Titanium dioxide (El 71), Riboflavin (E101); Maltodextrins.
The main active ingredient is Bromelain, a proteolytic enzyme obtained from the plant extract of the pineapple stem, which is used to improve and maintain circulatory tone and natural organic functions that promote the well-being of the osteoarticular system.
Who is it indicated for?
FORTILASE 20 Tablets is a suitable supplement for people who suffer from edema and inflammation, but also in cases of heavy legs due to poor circulation.
It is suitable for people who do not tolerate Non-Steroidal Anti-Inflammatory Drugs (NSAIDs) due to gastric problems or hypertension, celiac disease, allergies and egg intolerance.
It is totally contraindicated for people with pineapple allergies.
How to drink
FORTILASE 20 Tablets can be taken daily.
The dosage is as follows:
****Two pills a day in a single dose or 1 in the morning and afternoon.
Choose FORTILASE 20 Tablets as an aid to relieve discomfort derived from edema and inflammation and to mitigate the feeling of tired legs.
You can combine this product with any other product from our circulation range for tired legs .
Or if you prefer, you can click on the following link to view or Buy Meda Products .