 navigate_before
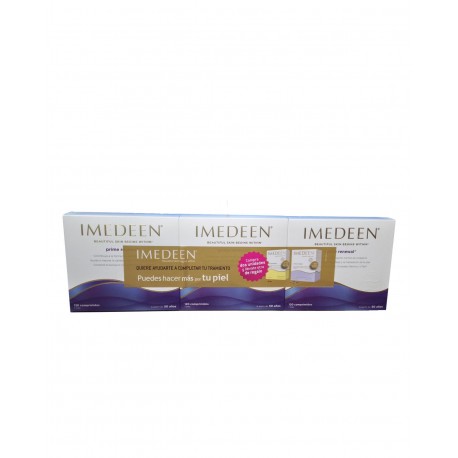  
IMEDEEN Prime Renewal 3x120 Capsules
IMEDEEN Prime Renewal is a formula for skin care, from 50 years
3x2 PROMOTION
360 Capsules
DESCRIPTION:
IMEDEEN Prime Renewal™ skin care tablets help fight the visible signs of aging that occur around menopause, when the skin loses moisture and becomes more prone to free radical damage and the appearance of age spots. age.
Wrinkles are accentuated as the fat in the deep layers of the skin decreases. IMEDEEN Prime Renewal acts in the deep layer of the dermis, a place where traditional repair creams cannot reach. It contains exclusive ingredients such as the Marine Complex - rich in proteins and polysaccharides similar to those naturally present in the skin - and the ViTea complex - a patented formula for skin defense, composed of white tea, vitamin C, extract tomato, grape seed extract and Vitamin E.
Chamomile extract has been added to the evening tablets.
IMEDEEN Prime Renewal Skin Care Tablets, taken daily:
Maintain the firmness of the skin
Contribute to the normal formation of collagen
They help the skin of the face and body feel softer, smoother and more flexible.
Reduce the appearance of wrinkles and fine lines
They help improve the quality and hydration of the skin
Help protect cells from oxidative damage
HOW TO USE:
Take 4 tablets a day, two in the morning and two at night.
Although the effects are noticeable after a short time of treatment, it is recommended to maintain it for at least 3 months.
RECOMMENDATIONS:
Keep out of the reach of children
Do not exceed the daily dose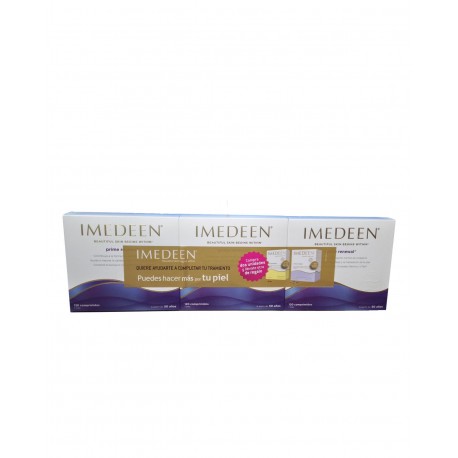 ¡ENVIO GRATIS en este producto!