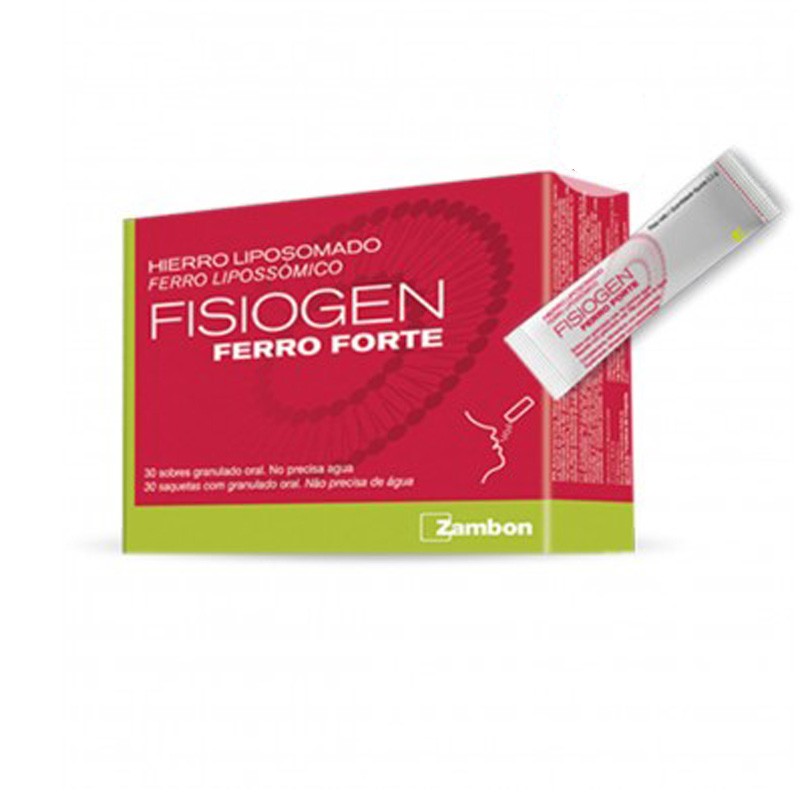  
FISIOGEN Ferro Forte 30 Envelopes
Dietary supplement.
Supplement in Envelopes.
High Iron Contribution.
Fast Nutritional Absorption.
Minimizes Adverse Effects and Discomfort.
High Intestinal Tolerability.
With Vitamin C
Contains Sucrochromated Iron.
Recommended for People with Anemia or Iron Deficiency.
Ideal During Pregnancy and Lactation.
FISIOGEN Ferro Forte
FISIOGEN Ferro Forte is a food supplement to make an extra contribution of Iron to the body.
Made from Sucroromate Iron to minimize side effects , for cases in which iron nutritional needs are high, such as people with anemia or women during pregnancy and lactation.
The Iron from Fisiogen Ferro Forte is presented covered by liposomes, an ideal vehicle to increase intestinal tolerance to iron by our body. Being protected by the liposome, the iron does not come into contact with the gastric mucosa and allows it to be absorbed directly in the intestine, avoiding the adverse effects and discomfort that iron treatments can sometimes cause.
Iron is an essential nutrient necessary for the proper functioning of the body, especially for the production of hemoglobin, the protein responsible for the transport and use of oxygen by the tissues.
Enriched with Vitamin C, which favors the absorption and mobilization of iron deposits in the body.
Benefits of FISIOGEN Ferro Forte
Dietary supplement.
Supplement in envelopes.
High contribution of Iron.
Fast nutritional absorption.
Minimizes adverse effects and discomfort.
High intestinal tolerance.
With Vitamin C
Contains Sucrochromated Iron.
Recommended for people with anemia or iron deficiency.
Ideal during pregnancy and lactation.
How to use FISIOGEN Ferro Forte
It is recommended to take one sachet with granules a day.
The content can be ingested directly without the need to dissolve in water.
Ingredients of FISIOGEN Ferro Forte
Sweeteners: sorbitol; maltodextrin, Ultrafer (iron pyrophosphate, pregelatinized rice starch, sugar esters of fatty acids, sunflower lecithin on glucose syrup support, tricalcium phosphate and milk protein), sodium L-ascorbate (vitamin C), flavoring, acidity regulator : citric acid; sweeteners: acesulfame K, sucralose.
You can help to combine this product with any other of our range of Vitamin Supplements
Or if you prefer, you can click on the following link to View or Buy Zambon Products
Envío desde 2.99€
y GRATIS desde 59€.