-7.45%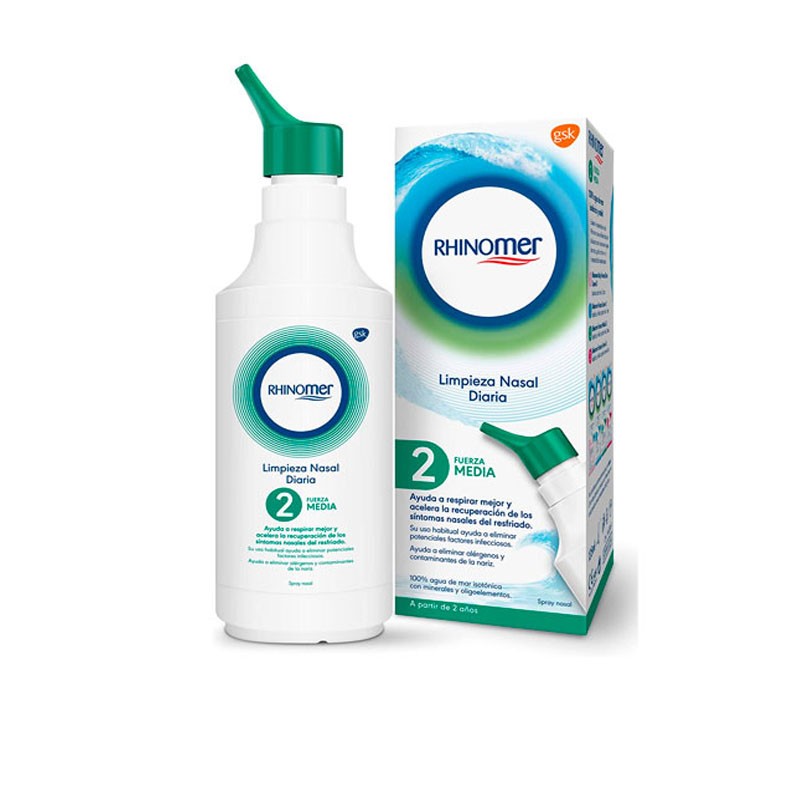  
RHINOMER Daily Nasal Cleansing Medium Strength 2 135ml
Medium strength nasal spray.
From 2 years old.
100% Sea Water of Natural Origin.
Contributes to decongesting the nose.
Moisturizes and helps eliminate allergens.
Speeds recovery from cold symptoms.
Without preservatives or propellant gas.
RHINOMER Daily Nasal Cleansing Medium Strength 2 135ml
RHINOMER Daily Nasal Cleansing Medium Strength 2 135ml obtained directly from the Saint-Malo area of ​​France.
After obtaining it, through an innovative filtration system , excess salt is reduced to make it compatible with the nasal mucosa . In this way, it is made physiological and sterile.
As it is not diluted, Rhinomer Sea Water preserves all the minerals and trace elements of the sea , which are essential and beneficial for the proper functioning of the nose .
Rhinomer cleanses , helps with nasal congestion and moisturizes naturally.
It has an innovative sterile packaging with a non-return valve that allows sterility to be preserved.
There are 4 presentations of Rhinomer that differ in the force with which the sea water comes out:
Benefits of using RHINOMER Daily Nasal Cleansing Medium Strength 2
100% Isotonic Sea Water .
No gas . The Rhinomer packaging is not an aerosol , taking care of the environment.
Without Preservatives .
Helps in decongesting the nasal passages in cases of: Nasal congestion, for example due to a cold , allergic rhinitis, exposure to dusty environments, or in the pre- and postoperative period of nasal surgery.
Daily cleaning of the nasal passages to maintain their proper functioning. Performing nasal washes with seawater regularly helps prevent alterations of the nasal mucosa and maintain its defensive function. Rhinomer cleans and moistens the nasal passages, removing dust, allergens, contaminants and pathogens.
Moisturize your nose. In cases of dry nasal passages when exposed to very dry environments, it helps hydrate the nasal passages.
A natural and effective help during pregnancy. During pregnancy, it is very common for women to suffer from nasal congestion (pregnancy rhinitis) due to hormonal changes in the body. In addition, pregnancy can also cause greater sensitivity to allergic processes. Rhinomer is presented as a risk-free solution because it is not a medicine , but is 100% Sea Water . Thus, it allows you to wash the nasal passages and relieve nasal congestion in a natural and safe way for the health of the pregnant woman and the baby .
How to use RHINOMER Daily Nasal Cleanse Medium Strength 2
To apply, first place the nasal applicator in the bottle, with a little pressure.
Over the sink, tilt your head to one side and apply the product to the upper nostril.
Repeat the operation in the other hole, turning the head to the other side.
You can help combine this product with any other from our range of Nasal Serums
Or if you prefer, you can click on the following link to view or Buy Rhinomer Products