 navigate_before

-2.62%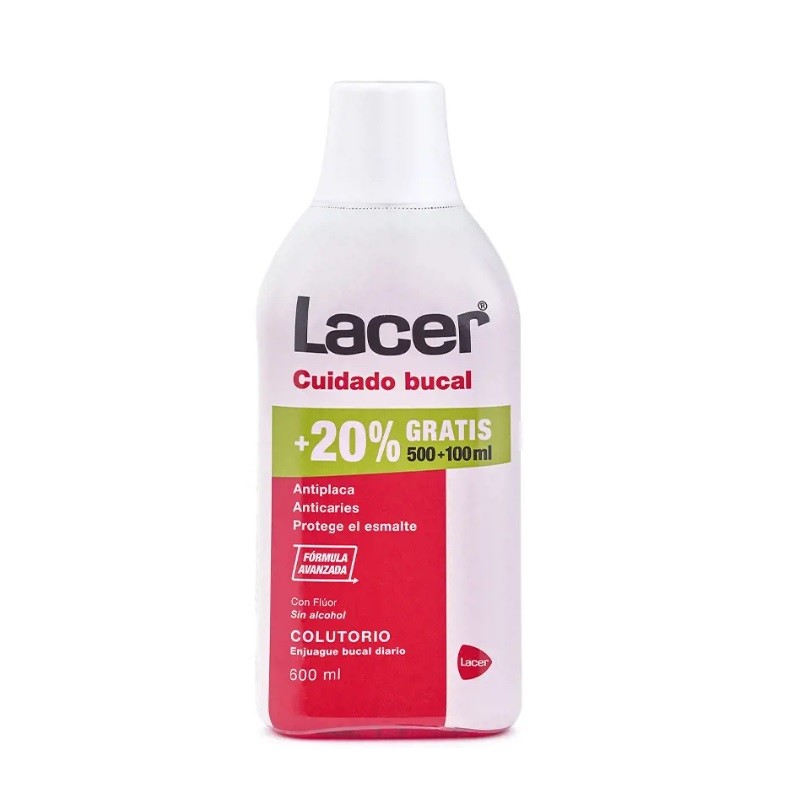  
LACER Alcohol-Free Anticaries Mouthwash 600ml
LACER Alcohol-Free Anticaries Mouthwash 600ml (20% FREE) 500ml + 100ml FREE
Alcohol-free mouthwash.
Daily mouthwash.
Complete Oral Cleaning and Hygiene.
Anticaries and Antiplaque.
Protects the enamel.
Fight bad breath.
Antiseptic Action.
Very fresh flavor.
Enriched with fluoride.
FORMAT: 500ml +

100ml FREE
LACER Alcohol-Free Anticaries Mouthwash 600ml
LACER Anticaries Mouthwash is a mouthwash for daily use formulated mainly for complete oral hygiene and cleaning.
Effectively combats the appearance of cavities and fights against any trace of plaque on the teeth.
Caries is one of the oral diseases that affects the largest number of people, therefore, brushing your teeth with a fluoride toothpaste and then rinsing your mouth with an alcohol-free mouthwash is the best option to combat its appearance and maintain a healthy mouth. fury.
Improves daily oral hygiene with antiseptic action, even in areas and residues that are difficult to clean with just brushing, while combating bad breath, leaving a very fresh taste.
Enriched with fluoride, which prevents cavities and strengthens tooth enamel.
This Lacer mouthwash does not contain alcohol, taking care of the gums, preventing dental stains and making it suitable for use by adolescents.
Ideal as a complement after daily tooth brushing.
What benefits does LACER Anticaries Mouthwash provide?
Alcohol-free mouthwash.
Daily mouthwash.
Complete oral cleaning and hygiene.
Anti-caries and anti-plaque.
Protects the enamel.
Fight bad breath.
antiseptic action.
Very fresh flavor.
Enriched with fluoride.
500ml +

100ml FREE

format
How is LACER Anticaries Mouthwash used?
Dispense into the mouth an amount equivalent to the glass that is integrated as a lid.
Rinse without swallowing for 1 to 2 minutes.
Expel the mouthwash.
It is recommended for use after brushing and flossing your teeth.
You can help combine this product with any other from our range of Oral Hygiene Mouthwashes
Or if you prefer, you can click on the following link to View or Buy Lacer Products