 navigate_before
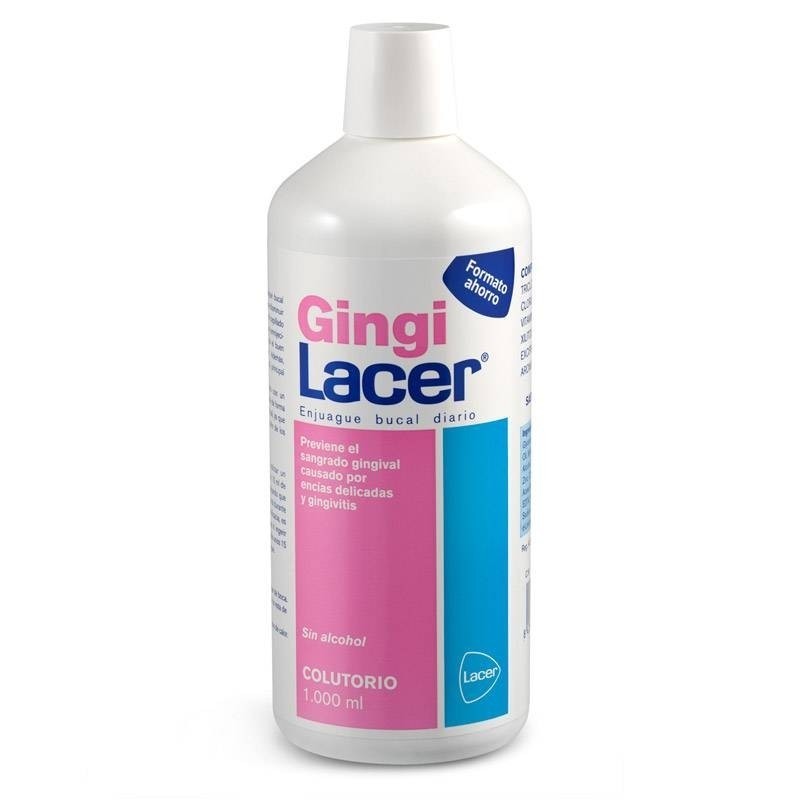  
LACER Gingilacer Mouthwash 1000ml
Mouthwash for Delicate Gums.
Reduces bleeding gums.
Mitigates plaque formation.
Restores Gingival Tissues.
Protects and strengthens gums.
Reduces inflammation.
Pleasant mint flavor.
1000ml format.
LACER Gingilacer Mouthwash
LACER Gingilacer Mouthwash significantly reduces gum bleeding caused by tooth brushing.
Developed to reduce the formation of dental plaque (the main factor causing gingivitis), through the synergy of its active ingredients, which inhibits bacterial activity for a long time.
Prevents gingival bleeding, mitigating the congestive process and improving the general condition of swollen and bleeding gums .
Its formula contains vitamins that neutralize the action of free radicals and protects the gums against the aggression of dental plaque, preventing inflammation of the gingival tissues.
It reduces inflammation and reduces bleeding, facilitating epithelial regeneration of the gums, toning and strengthening them, which improves their resistance to new inflammation.
Benefits of using LACER Gingilacer Mouthwash
Mouthwash for delicate gums.
Reduces bleeding gums.
Reduces plaque formation.
Restores gingival tissues.
Protects and strengthens gums.
Reduces inflammation.
Pleasant mint flavor.
1000ml format.
Composition of LACER Gingilacer Mouthwash
Contains 0.1% cimenol, 0.1% zinc chloride, 0.05% potassium glycyrrhizate and 225 ppm fluoride ions.
In addition, Gingilacer Mouthwash is formulated without alcohol, with a pleasant mint flavor. It can be used continuously as regular hygiene, as it protects the gums and does not alter the color of the teeth. Its use is recommended after brushing teeth with Gingilacer Toothpaste to enhance its effect, since not needing rinsing enhances the action of its active ingredients by remaining in the mouth for longer.
Does not contain gluten.
How to use LACER Gingilacer Mouthwash
Use two or three times a day, after brushing.
It can be used as a regular mouthwash as it does not contain alcohol.
You can help combine this product with any other from our range of Mouthwashes
Or if you prefer, you can click on the following link to View or Buy Lacer Products