-4.15%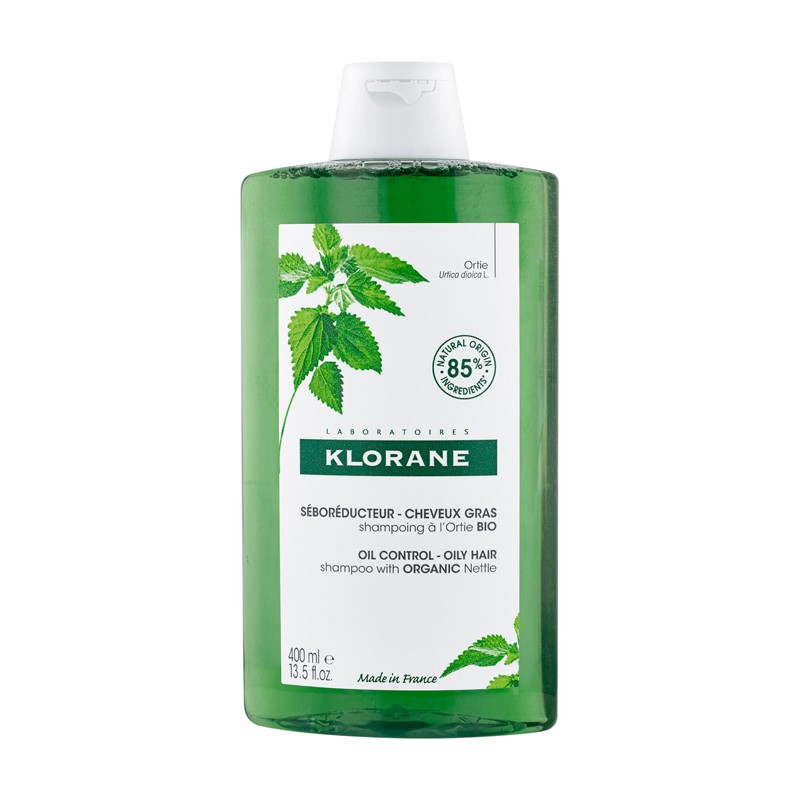  
KLORANE Nettle Shampoo 400 ml
Shampoo for oily hair and scalp.
Cleanses, purifies and rebalances.
Formula enriched with Nettle.
Controls sebum production.
Recommended for teenagers and adults.
Result: clean, healthy and light hair.
fresh scent
400 ml container 100% recycled and recyclable.
KLORANE BIO Nettle Shampoo 400 ml
It is a shampoo for oily hair , which reduces excessive sebum secretion on the scalp . There are a series of hair problems that appear as a result of this excess oil: hair loss, irritation, loss of softness and shine, feeling of heavy and sticky hair...
KLORANE BIO Nettle Shampoo 400 ml is the appropriate hair hygiene product for this type of hair , as it regulates sebum production, reducing it.
Thanks to its formulation, rich in nettle and detergents, it promotes detangling, increases hair volume and the result is soft, clean and luminous hair that, over time, will need fewer washes.
With KLORANE BIO Nettle Shampoo 400 ml discover a new look for your hair: purified, healthy, light and full of life.
Why is this shampoo beneficial?
Cleanses, purifies and rebalances:

visible results after 28 days of use.

Purifies:

Gentle and astringent cleansing base to purify the scalp and oily hair without damaging its balance.

Reduces oil production:

rebalances sebaceous glands and reduces secretions, keeping oily hair under control for longer.

Less washing:

thanks to white nettle of organic origin, you can space out washing.

Visible results after 3 weeks of treatment.
Improves the appearance and increases the volume of hair.
Perfect for adults and teens with oily hair or scalp.
Biodegradable formula enriched with nettle extract.
85% natural ingredients.
Suitable for daily use.
Easy to untangle.
100% recycled and recyclable container and cap.
nice smell
Main ingredients
KLORANE BIO Nettle Shampoo 400 ml is composed of 85% natural active ingredients that work in harmony to purify oily scalp without damaging it.
Organic Nettle: It is known for its sebum-regulating power. It is organically grown, dried in the sun naturally to preserve all its properties. Through an extraction process that respects the plant and the environment, and with the use of an ecological solvent,

a highly concentrated active ingredient is achieved.

Glycerol laurate:

limits sebum production on the scalp.
Who is it recommended for?
KLORANE BIO Nettle Shampoo 400 ml is indicated for adults and adolescents who have oily, irritated hair or want to combat hair loss due to excess sebum.
How to use
KLORANE BIO Nettle Shampoo 400 ml can be used daily as many times as necessary.
During the shower, apply to damp hair and scalp.
Lather and massage gently.
Leave it on for 2 or 3 minutes.
Rinse with plenty of water.
KLORANE BIO Nettle Shampoo 400 ml is the ideal hair hygiene product for oily hair. Get clean and purified hair, you will see how you can space out the washes and say goodbye to those days with horrible hair.
Discover more shampoos for Oily Hair or if you prefer you can see or buy more products from the Klorane range.