-15.62%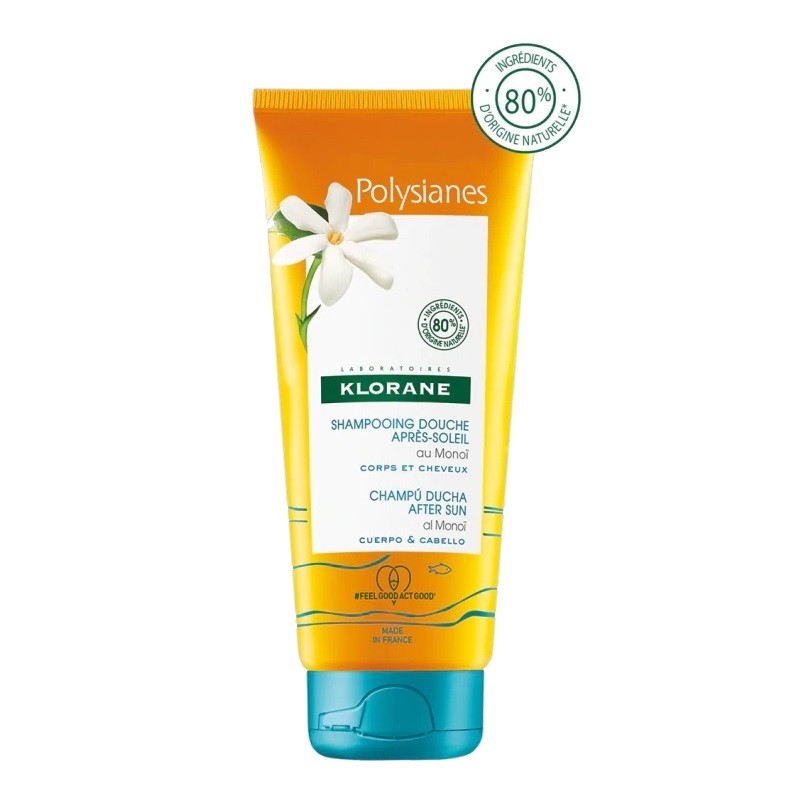  
KLORANE POLYSIANES After Sun Shower Shampoo with Monoï 200ml
2 in 1 Monoï Shampoo (Shampoo and Gel).
80% Ingredients of Natural Origin.
Nourished and Hydrated Skin.
Flexible and Silky Hair.
Gently remove the salt.
Cleans and Nourishes Hair and Skin.
Strong and Shiny Hair.
With Monoi from Tahiti.
Delicious Perfume of Tiare Flowers and Vanilla notes.
Biodegradable formula.
Use 2-in-1 Body and Hair.
- SHOWER SHAMPOO FOR AFTER SUN -
KLORANE POLYSIANES After Sun Shower Shampoo with Monoï 200ml
Monoi shower shampoo that cleanses , nourishes the skin and hair and gently removes salt after sun exposure to keep it strong and shiny.
Polysianes shampoo helps to recover and maintain the structure of the hair , deeply hydrates it and gently removes salt.
It is enriched with Monoi , which envelops the skin in a delicious perfume inspired by the Pacific islands. The shower becomes a moment of pleasure.
Monoi is a natural asset present in Tahitian beauty treatments and that Polysianes includes in its sun care . It is obtained from the maceration of Tiare flowers in refined Copra oil. With an exceptional fatty acid content, it hydrates and nourishes the skin to protect it from drying out during sun exposure.
Enjoy shiny, soft and flexible hair and avoid the drying action of the sun and salt .
Polysianes Monoï Shower Shampoo is a true beauty secret and an essential product for holidays as it gently cleanses the skin and hair and removes salt .
Its perfume has notes of Tiare Flowers , white flowers highlighted with sensual and vanilla notes.
Klorane Polysianes After Sun Shower Shampoo with Monoï is the ideal all-in-one product for the holidays
What are the properties of Klorane Polysianes After Sun Shower Shampoo with Monoï?
2-in-1 shampoo with Monoï (shampoo and gel).
80% ingredients of natural origin.
Nourished and hydrated skin
Flexible and silky hair.
Gently remove the salt.
Cleans and nourishes hair and skin.
Strong and shiny hair.
With Monoi from Tahiti.
Delicious perfume of tiare flowers and vanilla notes.
Biodegradable formula.
2-in-1 use for body and hair.
For whom is it indicated?
Klorane Polysianes Monoï After Sun Shower Shampoo is indicated for those who want to protect their hair from damage caused by the sun's rays.
Polysianes Shower Shampoo is ideal to take on vacation as it is a 2-in-1 for hair and body.
How does it apply?
It is recommended to apply a generous amount of the product on the hair and on the skin in the shower or bath.
Gently massage until a light foam is obtained.
Rinse with plenty of water.
You can combine this product with any other from our range of Shampoos , Gels & Bath Oils or Photoprotectors
Or if you prefer, you can click on the following link to see or Buy KLORANE POLYSIANES Products
Envío desde 2.99€
y GRATIS desde 59€.