-7.14%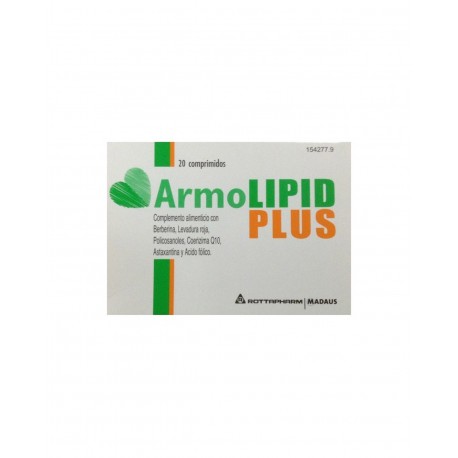  
ARMOLIPID Plus 20 Tablets
Dietary supplement.
Helps Control Cholesterol.
Promotes the Normalization of Homocysteine ​​Metabolism.
Contributes to the Control of Triglycerides.
With Folic Acid, Berberine and Natural Extracts.
Rich in Antioxidants.
Format 20 Tablets.
ARMOLIPID Plus
ARMOLIPID Plus is a food supplement that regulates the levels of Triglycerides and Cholesterol.
Made from Folic Acid and Natural Extracts, which favor the normalization of Homocysteine ​​metabolism , which allows maintaining adequate levels of this substance.
It also contains Berberine , which has an action that favors the control of plasmatic Triglycerides and helps to maintain plasmatic Cholesterol levels.
In addition, it has antioxidant properties thanks to its content of Coenzyme Q10 and Astaxanthin.
Format 20 tablets.
This product should not be used as a substitute for a varied, balanced diet and a healthy lifestyle.
Benefits of using ARMOLIPID Plus
Dietary supplement.
Helps control cholesterol.
It favors the normalization of the metabolism of Homocysteine.
Contributes to the control of Triglycerides.
With Folic Acid, Berberine and Natural Extracts.
Rich in antioxidants.
Format 20 tablets.
How to use ARMOLIPID Plus
Administer one tablet a day.
Swallow it with water, preferably in the afternoon.
In case of difficulty swallowing, the tablet can be divided into two parts and administered with more water.
Do not exceed the recommended daily dose.
ARMOLIPID Plus ingredients
Composition: dry extract of Berberis aristata; Red yeast rice (Monascus purpureus); anti-caking agents: microcrystalline cellulose, sodium carboxymethylcellulose, silicon dioxide, magnesium stearate, talc; dry extract of microalgae (Haematoccus pluvialis, astaxanthin 2.5% (hydrolyzed gelatin, oleoresin, sucrose, corn starch, ascorbyl palmitate, tocopherol and astaxanthin)); Saccharum officinarum (policosanol); coating agents: hydroxypropylcellulose, polyvinylpyrrolidone, shellac; Coenzyme Q10; folic acid.
This product can be taken by a person with celiac disease, allergy/intolerance to eggs, allergy to milk protein or lactose intolerance.
You can help to combine this product with some more of our range of Cholesterol Care Supplements
Or if you prefer, you can click on the following link to View or Buy Mylan Products
Envío desde 2.99€
y GRATIS desde 59€.