-11.53%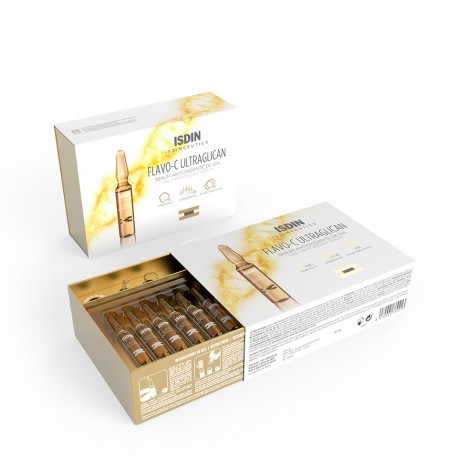  
ISDINCEUTICS Flavo-C Ultraglican Ampoules 30x2ml
Face Serum.
Anti-Aging Effect.
Improves the Appearance of Wrinkles.
Antioxidant properties.
Combat Photoaging.
Recovers the Elasticity of the Skin.
Contains Moisturizing Hyaluronic Acid.
With Vitamin C and Ultraglycans.
Rejuvenated and Luminous Appearance.
Promotes the Natural Synthesis of Collagen.
Unifies the Tone of Sunspots.
Indicated for All Skin Types.
Format 30 Ampoules.
ISDINCEUTICS Flavo-C Ultraglican
ISDINCEUTICS Flavo-C Ultraglican is an antioxidant facial serum with an anti-aging effect.
Powerful combination of antioxidants that combats photoaging, promoting the recovery of skin elasticity, providing great hydration thanks to Hyaluronic Acid and a visibly rejuvenated and luminous appearance.
Pure Vitamin C , which can be found naturally in the skin, oxidizes in the air, losing its beneficial effects. For this reason, Flavo-C contains 8% pure Vitamin C, which remains active on the skin for 10 hours.
Thanks to the great increase in Vitamin C produced by this serum, it neutralizes the action of free radicals and regenerates Vitamin E, leading to a decrease in the substances that cause skin aging.
In addition, the local increase in Vitamin C intervenes in the collagen generation process, resulting in an improvement in skin elasticity and greater resistance of the capillary vessel wall.
Ultraglycans are an innovative synergistic combination of proteoglycans and pre-proteoglycans that reinforce the supporting structures of the skin and maintain hydration. Proteoglycans improve smoothness, flexibility and firmness, while pre-proteoglycans promote the synthesis of proteoglycans, already in our body, whose levels decrease with age.
The ascorbic acid in its exclusive formula stimulates cells to increase collagen production and improve the appearance of superficial wrinkles, skin texture and signs of aging, thus delaying skin aging.
ISDINCEUTICS Flavo-C Ultraglican also unifies the tone of sun spots, interfering in the melanin synthesis process. The skin is more luminous with its continued use, at the same time that it is more protected from oxidative damage.
Indicated for all skin types and with a pleasant serum texture that is easy to apply. Format in 30 vials of 2ml to release this wonderful solution every day.
Benefits of ISDINCEUTICS Flavo-C Ultraglican
Face serum.
Anti-aging effect.
Improves the appearance of wrinkles.
Antioxidant properties.
Combat photoaging.
Recovers the elasticity of the skin.
With moisturizing Hyaluronic Acid.
With Vitamin C and Ultraglycans.
Rejuvenated and luminous appearance.
Promotes the natural synthesis of collagen.
Unifies the tone of sun spots.
Indicated for all skin types.
Format 30 vials.
Instructions for use of ISDINCEUTICS Flavo-C Ultraglican
Use in the morning.
Use the serum on clean skin before regular care and after the facial hygiene routine.
Apply half an ampoule in the palm of the hand.
Spread over the face, neck and décolleté with the fingertips with a gentle massage.
Once opened, it is recommended to use it within the next 24 hours to preserve its effectiveness.
You can help to combine this product with one of our other Anti-Aging Serum Care range.
Or if you prefer, you can click on the following link to View or Buy Isdinceutics Products
Envío desde 2.99€
y GRATIS desde 59€.