-1%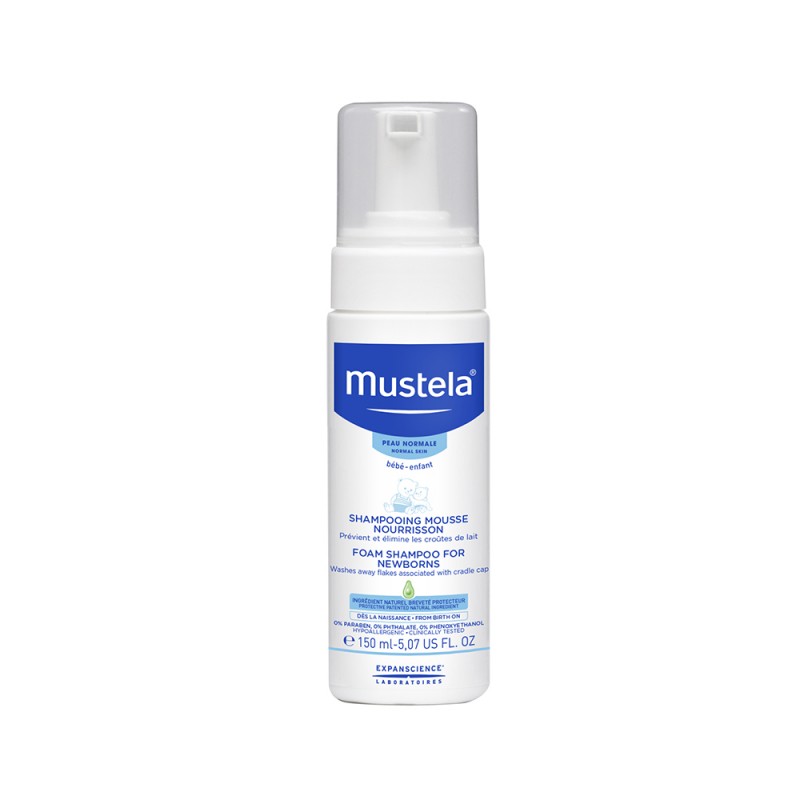  
MUSTELA Newborn Mousse Shampoo 150ml
Newborn Shampoo.
Clean the hair.
Favors the Elimination of Cradle Cap.
Smoothes Cradle Cap Scales.
Strengthens the Baby's Skin Barrier.
With Avocado Perseose.
Does not irritate the eyes.
Light foam.
Unique scent.
Easy Rinse.
Ideal for Babies.
Mustela Newborn Mousse Shampoo
Mustela Newborn Mousse Shampoo is a mild shampoo that cleanses your newborn baby 's hair and favors the elimination of cradle cap.
It acts on the cradle cap, helping to soften and eliminate the scales of the crust, thanks to Slicylic Acid, with a kerato-regulating action.
Thanks to its patented formulation made with Avocado Perseose , it contributes to preserving the natural richness of the skin and helps to reinforce the skin barrier by treating the cradle cap that babies have at birth to improve their hair growth naturally.
Shampoo that does not irritate the eyes and that generates a light foam with a unique aroma and easy rinsing, ideal for the daily hygiene of newborns.
Care specifically designed for the fragile skin of babies, guarantee safety from birth through high skin and eye tolerance and by prioritizing ingredients of natural origin and nutritional complexes tested under dermatological and pediatric control.
Benefits of using Mustela Newborn Mousse Shampoo
Newborn shampoo.
Clean the hair.
It favors the elimination of milk crust.
Smoothes the scales of the cradle cap.
Strengthens the baby's skin barrier.
With Avocado Perseose.
It does not irritate the eyes.
light foam
unique scent
Easy rinsing.
Ideal for babies.
How to use Mustela Newborn Mousse Shampoo
Extract a small amount of the product in the palm of the hand.
Apply to the previously moistened scalp of the newborn.
Give a gentle massage to foam.
Leave to act for a period of one or two minutes.
Rinse with lukewarm water.
Gently dry with a delicate textured towel.
You can combine this product with any other from our Baby Care range.
Or if you prefer, you can click on the following link to see or Buy MUSTELA Products.
Envío desde 2.99€
y GRATIS desde 59€.