-33.09%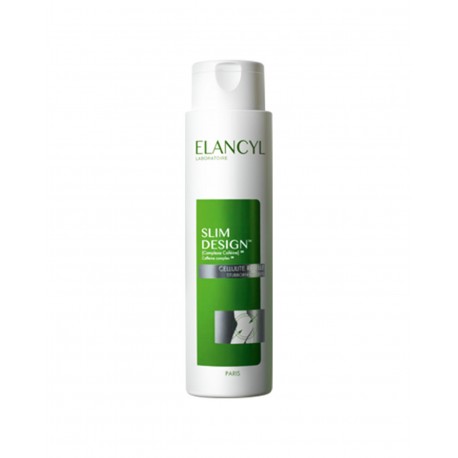  
ELANCYL Slim Design Rebel Cellulite 200ml
Rebel Anti-Cellulite Cream.
With 3D Caffeine complex.
Triple impact on Rebel Cellulite.
Smoothes the Nodules.
Provides elasticity.
Firms the skin.
ELANCYL Slim Design Rebel Cellulite 200ml
Elancyl Slim Design rebel anti-cellulite slimming cream . With the 3D Caffeine Complex it helps treat the 3 factors responsible for cellulite; removal, drainage, derigidification.
Provides an immediate ultra-smoothing effect.
Clinically proven efficacy from 7 days.
Elancyl Slim Design Rebel Cellulite allows to activate and extend the elimination of cellulite . With active ingredients that target fat cells as well as the tissues that surround them (peripheral connective tissue).
Research by Elancyl Laboratoire has identified three actions that must be carried out simultaneously to smooth cellulite nodules :
Elimination of lipid deposits in adipocytes.
Lymphatic drainage and detoxification of tissues .
Elimination of the rigidity of the tissues around the adipocyte.
As? Thanks to the combination of 3 active ingredients contained in Slim Design : caffeine, ivy and salacia root, a small shrub that is also used in Ayurvedic medicine.
Elancyl Slim Design Rebel Cellulite has a sensory and fluid texture , which helps to provide a better massage and absorption.
Properties and benefits of Elancyl Slim Design Rebel Cellulite
Rebel Anti-Cellulite Cream.
With 3D Caffeine Complex.
Triple impact on rebellious cellulite.
Smooth out the nodules.
Provides elasticity.
Firms the skin.
Firmer, more toned and more flexible skin.
What is Elancyl Slim Design Rebel Cellulite indicated for?
Elancyl Slim Design Rebel Cellulite is indicated for all skin types for intensive daytime anti-cellulite care that promotes cell activity and encourages fat removal.
Elancyl Slim Design Cellulite Rebel composition
Caffeine.
cecropia.
Floridzina.
Salacia.
Ivy.
Nutritive agents.
Light reflecting pigments.
Salacia + Ivy : Double action on the elasticity of the skin.
Caffeine + Cecropia : Reduction of the appearance of cellulite .
Ivy : Improves skin tone, reinforced by massage.
Elancyl Slim Design Rebel Cellulite how to use
Apply once or several times a day as needed on perfectly cleansed skin.
Apply in the morning using a massage with circular movements .
Massage protocol : Perform the massage after showering on dry skin.
Put a dose of Slim Design in the palm of your hand.
Extend on the different sides of the thigh with simultaneous pressure of the hands, firm, fast and rhythmic.
Pinch and rotate vertically and/or transversally on the problem areas: inside the knees, upper part of the thighs, buttocks, abdomen.
You can combine this product with any other from our range of Anti-cellulite, Reducers and Firming
Or if you prefer, you can click on the following link to see or Buy ELANCYL Products
Envío desde 2.99€
y GRATIS desde 59€.