-1.25%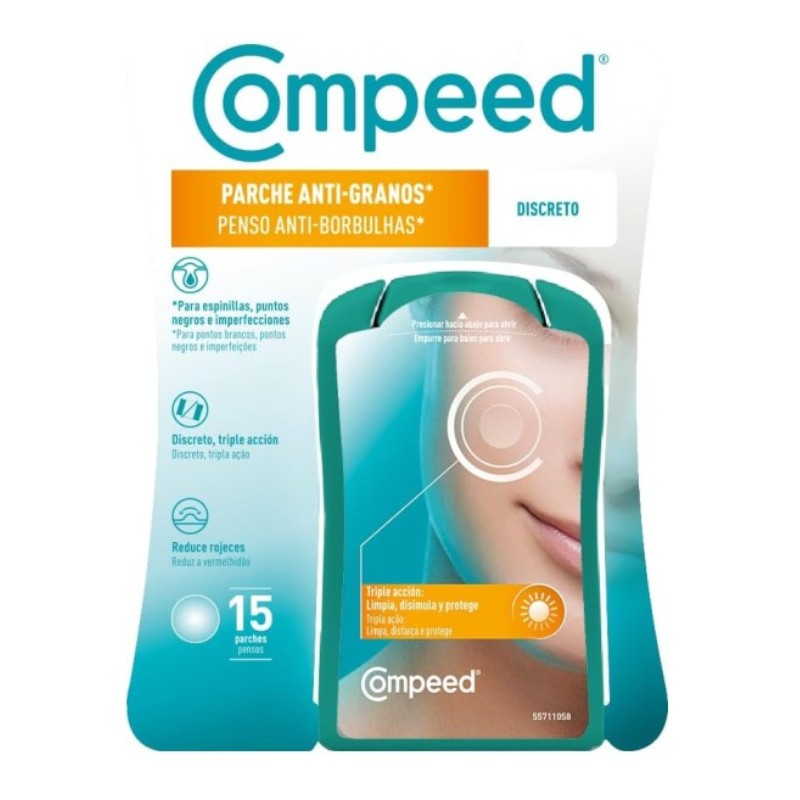  
COMPEED Discreet Anti-Grain 15 units
Discreet anti-pimple patches with triple action help clean, conceal and protect your pimples, blackheads, blackheads and blemishes.
COMPEED Discreet Anti-Grain 15 units
COMPEED® Discreet Anti-Pimple Patches* help clean, conceal and protect your *pimples, blackheads, blackheads and blemishes.
COMPEED® Anti-Pimple Patches use hydrocolloid technology to create the optimal environment to heal your skin. These hydrocolloid patches are designed for specific pimples, offer daily protection with a discreet design and are gentle on the skin, revealing a smooth and luminous complexion.
The new generation of COMPEED® anti-pimple products has been created with hydrocolloid technology:
Absorbs excess oil and sebum that blocks pores, cleaning impurities on the surface of the skin.
It adheres well to dirt and dead skin cells and stays in place throughout the day, helping to reduce pimples.
Avoid popping or touching the pimple and help prevent the entry of impurities that can prolong or worsen pimples.
Discreet design that allows them to be used during the day.
How to use COMPEED Discreet Anti-Pimples 15 units
Clean and dry your skin before use, making sure the pimple area is free of creams and oils.
Peel the clear applicator away from the teal protective layer.
Hold the clear laminate applicator by the curved edge.
Carefully remove the clear laminated applicator from the teal protective cover with both hands.
You will see that the round anti-pimple patch sits on the white part of the clear laminate applicator. Be careful not to touch the sticky side of the patch.
Apply the patch to the pimple. Using a mirror if necessary, gently press down to secure it firmly into the grain.
Gently peel off the clear applicator, leaving the patch in place. Makeup can be applied over the patch. To remove the dressing: Slowly stretch the patch along the skin. Don't pull up. When removing it, a slight redness may appear caused by its high adhesiveness, which could create a mild, painless skin reaction. The redness should disappear within a few minutes after you remove it.
White bubbles may appear on the patch while you are wearing it. This shows that the hydrocolloid technology is working by absorbing excess moisture and oil.
Ingredients:
STYLATES (PETROLEUM), THERMALLY CRACKED, HYDROGENATED HEAVY POLYMER; STYRENE – ISOPRENE COPOLYMERS; CELLULOSE RUBBER; DIETHYLHEXYL ADIPATE; METHYLTRIMETHOXYSILANE; PENTAERYTHRITIL TETRA-DI-T-BUTYL HYDROXYHYDROCINAMATE; TALCUM POWDER; B HT.