-1.19%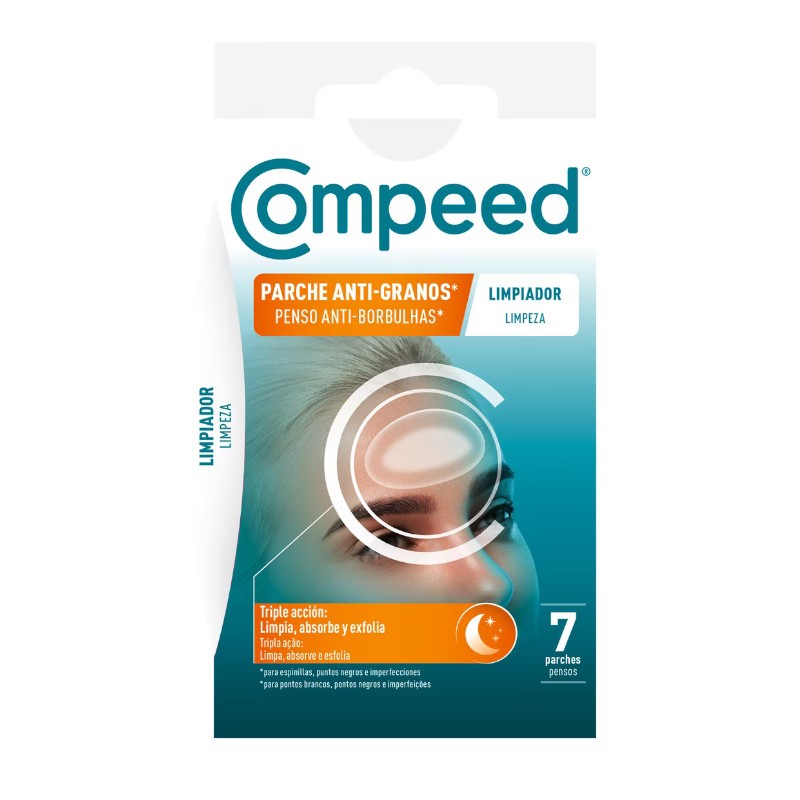  
COMPEED Anti-Pimple Cleansing Patches 7 units
Individual anti-pimple patches that help cleanse your skin of blemishes, pimples and blackheads.
COMPEED Anti-Pimple Cleansing Patches 7 units
COMPEED® Anti-Pimple* Cleansing Patches help cleanse your skin, absorb excess sebum and exfoliate impurities, leaving skin softer and more radiant.
COMPEED® Anti-Pimple Patches use hydrocolloid technology to create the optimal environment to heal your skin. These hydrocolloid dressings target large blemish-prone areas and gently remove stubborn impurities. They are ideal for use at night, so you wake up with soft skin, without drying it out.
Hydrocolloid patches are also available for specific breakouts.
*Imperfections, pimples and blackheads.
High-absorption hydrocolloid removes excess oil from the skin's surface.
By adhering well to dirt and dead skin cells, its long-lasting action is maintained all night to prevent the entry of microorganisms.
This protective barrier helps prevent popping or touching pimples, while protecting the skin from external factors such as dirt. This helps prevent pimples from getting worse and preserves the natural healing process.
How to use COMPEED Anti-Pimple Cleansing Patches 7 units
Clean and dry your skin before use, making sure the pimple area is free of creams and oils.
Remove the hydrocolloid dressing from the packaging and remove the protective paper printed with COMPEED® from the patch. Be careful not to touch the adhesive side.
Apply the COMPEED patch firmly to the skin, making sure the edges are smooth. If you use other skin care products as part of your routine, it is best not to apply them at the same time as the patch, to ensure that the patch stays in place all night.
To remove the dressing: do not pull up. You have to stretch slowly along the skin. When removing the patch, slight redness may appear due to its high adhesiveness, which could create a mild, painless skin reaction. The redness should disappear within a few minutes after you remove it.
White bubbles may appear on the patch while you are wearing it. This shows that the hydrocolloid technology is working by absorbing excess moisture and oil.
Precautions with COMPEED Anti-Pimple Cleansing Patches 7 units
If you have any healing problems or skin conditions, ask your doctor or pharmacist before using a patch.
Keep dressings out of the reach of children.
Do not apply them to a wound or infected pimple.
Do not reuse or change location once applied.
This product has not been tested on children, pregnant and lactating women.
Ingredients:
CELLULOSE RUBBER; DISTILLATES (PETROLEUM), THERMALLY CRACKED HEAVY POLYMER, HYDROGENATED; STYRENE – ISOPRENE COPOLYMERS; DIETHYLHEXYL ADIPATE; POTATO STARCH; PENTAERYTHRITIL TETRA-DI-T-BUTYL HYDROXYHYDROCINAMATE; TALCUM POWDER; PHENOL, 2,4-BIS (1,1-DIMETHYLETHYL)-, PHOSPHITE (3:1) ; TRIS-BHT MESITYLENE; CI 77891 (TITANIUM DIOXIDE).