 navigate_before

-5%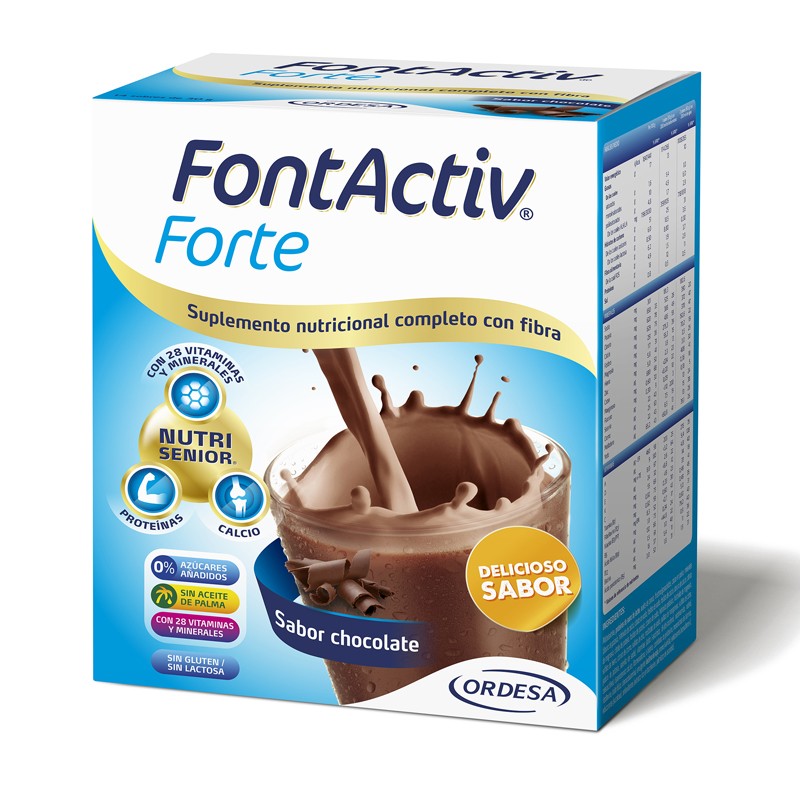  
FONTACTIV Forte Chocolate Flavor 14 Envelopes 30G
The optimal nutritional supplement for adults and seniors.
Delicious flavor with Ordesa quality.
Nutritional deficiencies increase the risk of numerous diseases and problems, especially those associated with age:
Higher incidence of infection,
Aggravation of chronic pathologies,
Delayed healing of pressure ulcers or scars
Lengthening of hospitalization periods.
For this reason, it is essential to avoid its appearance.
In our country, the risk of malnutrition especially affects individuals with chronic pathologies, hospitalized patients, and older adults who live alone.
In these circumstances, the use of nutritional supplements has been shown to improve quality of life and reduce the appearance of complications.
Fontactiv Forte chocolate flavor is a complete powdered dietary food with fiber, 13 vitamins and 11 minerals that is characterized by:
Provide the nutrients of a complete and balanced diet.
Protein source: It is made from 100% whey proteins of high biological value and easy assimilation. Whey proteins contribute to increasing muscle mass.
Source of calcium, vitamin D and phosphorus, which contribute to the maintenance of bones.
Source of zinc, selenium, copper and vitamin C, which participate in the normal functioning of the immune system and in the protection of cells against oxidative damage.
Lactose-free: Prepared with water or lactose-free milk, it is also ideal to complement the diet in case of lactose intolerance.
Delicious chocolate flavor.
Versatile: It can be prepared with water or milk.