-7.15%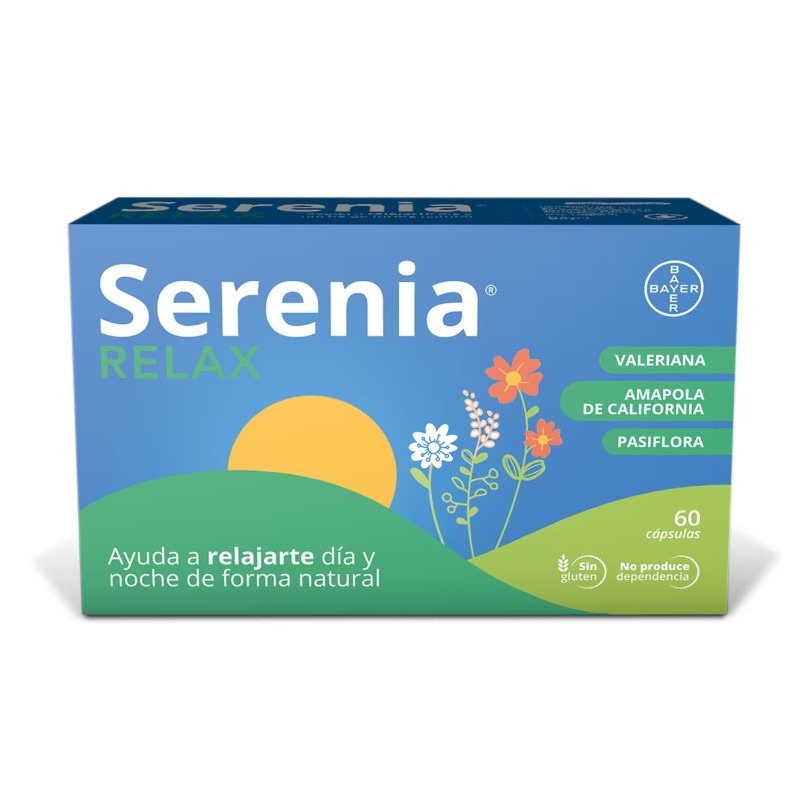  
SERENIA Relax 60 Capsules
Dietary supplement.
Based on Plant Extracts.
Helps Relax Naturally.
They promote conciliation and sleep quality.
With California Poppy, Passionflower and Valerian.
Format: 60 capsules.
Serenia Relax 60 Capsules
Serenia is a Food Supplement based on plant extracts that helps to relax and favors conciliation and quality of sleep .
It is a specific combination of California Poppy, Valerian and Passionflower that has a complementary and synergistic effect.
DURING THE DAY : promotes well-being during the day.
AT NIGHT : Promotes and improves conciliation, depth and quality of sleep .
Serenia with California Poppy that helps improve sleep quality with Valerian and Passionflower.
Its specific formula with complementary and synergistic action makes Serenia a natural solution to recover serenity and well-being both day and night.
Serenia helps to Relax Naturally.
The benefits of the product are observed from the first days, but to obtain a good result it is recommended to take the indicated doses and allow a latency time (from 2 to 4 weeks).
For whom is Serenia indicated?
Serenia is indicated for adults and children over 12 years of age.
The current way of life imposes a rhythm on us that can affect our emotional well-being . The pressure at work, schedules, dealing with family matters , the environment of big cities ... can affect our balance , causing irritability, nervousness and sleep problems.
These manifestations can be diverse and when they persist over time , they can affect daily life, creating a circle from which it is difficult to get out if it is not acted upon.
Sleep disturbances can be caused by nervousness accumulated during the day , and in turn, not having quality sleep has its repercussions on daily activity: low concentration, tiredness, irritability, nervousness, drowsiness. It is necessary to complete all phases of sleep to recover physically and mentally.
What are the benefits of using Serenia?
Dietary supplement.
Based on plant extracts.
Helps to relax naturally.
They promote conciliation and quality of sleep.
With California Poppy, Passionflower and Valerian.
How to take Serenia?
Take 1-2 capsules per dose depending on the degree of nervousness of the person.
You can help to combine this product with some more from our range of Mood Supplements
Or if you prefer, you can click on the following link to see or Buy Serenia Products
Envío desde 2.99€
y GRATIS desde 59€.